Before we began our tour with Contiki, we had a couple days to explore the city of Christchurch New Zealand. It was unfortunate to find that the city center was destroyed and closed off due to the recent earthquakes. But through all the destruction, you could see that Christchurch was in the process of being reborn.
I found the sharp contrast between life and death, old and new, to be really beautiful.
Pin
Pin
A temporary art installation by Pete Majendie. The chairs representing 185 lost lives from the Feb 22, 2011 earthquake:
Pin
There was an eerie feeling seeing streets empty in the city center
Pin
Pin
Pin
Pin
Pin
Pin
Street art scattered around town:
Pin
Pin
Pin
Pin
RE:START is a shopping center built out of shipping containers. The resourcefulness gave this area unique architecture and a vibrant energy that made it a great place to hang out. Especially for the hipsters. There were many little boutiques, restaurants, coffee shops, live music and plenty of outdoor seating. We spent the majority our first afternoon here.
Pin
Our lunch at Hummingbird Cafe at Re:Start:
Pin
Pin
What a library in Christchurch looks like now: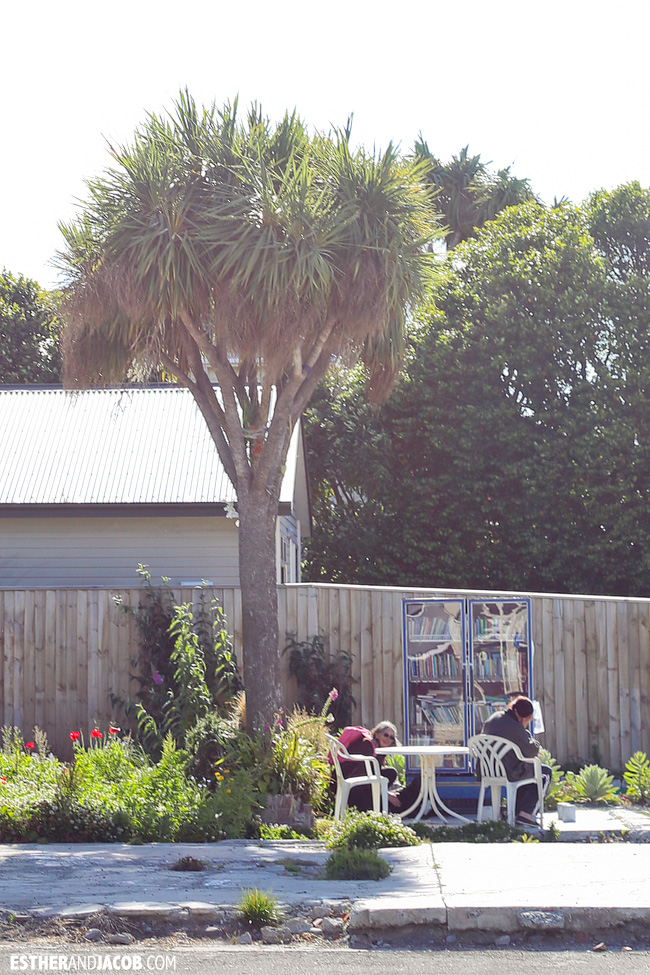 Pin
CBD Bar and Pizzeria. The cup we got from Re:Start got us 1 free beer per pizza pie, so naturally we ordered two. The Kirwee (spiced lamb, currant, mint & mozarrella) and the Hortane (blue cheese substituted with goats feta cheese, pear, thyme, and bacon) which came with their house milk stout & lager.. Yum!:
Pin
Pin
We had lunch at the cafe at Willowbank Wildlife Reserve where we had our very first of many many meat pies. We went out of convenience since we were visiting the animals, but we were glad we did because it was probably the best from our trip.. This was the beef & beer pie:
Pin
Pin
An Overview of things we did:
Willowbank Wildlife Reserve to see local animals.
Hang out at Re:Start Mall
A Photowalk around the city center
Relaxed a lot after our long flight
Where we ate:
Tips for traveling in Christchurch:
Because of the recent earthquake, most travel literature is out of date. Be sure to ask the locals where to go because many shops & restaurants have moved to different areas of town and there are new ones popping up all the time.
Stop by Reimagine Christchurch at Re:Start where they will give you a voucher for a free cup of coffee if you instagram a nice photo with #chch. They also give you a glass for free beer at various restaurants in diff cities around new zealand.
During their summer (our winter in the US), they have really long days. If you travel around Dec, you can get sunlight until 10PM.
It feels like four seasons in one day, so pack layers and always have them handy.
—
Amidst the shards of glass & twisted steel
Beside the fallen brick & scattered concrete
we began to understand that there is beauty in the broken
Strangers do not live here anymore – K. Helen