On any given day in San Diego, you can find a farmers market somewhere in the city. Everyone has their own opinion on which is the best, but most locals mention the Hillcrest Farmers Market as a favorite. La Jolla's is too big and overwhelming. North Park is small and doesn't have enough options. Hillcrest is supposed to be just the right size.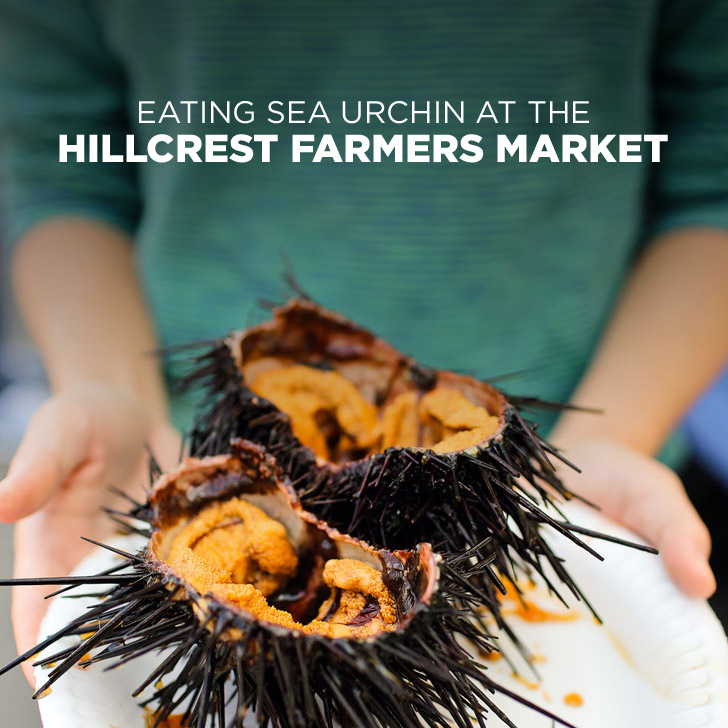 Pin
After visiting for ourselves, we have to agree! The market is broken into two main sections. South of Harvey Milk street is mostly filled with food stalls, and the north is filled with produce and crafts.
Pin
Besides seeing the Hillcrest Farmers Market for ourselves, we had one other goal during our visit. We had to stop by Poppas Fresh Fish stall and have fresh sea urchin! Jacob loves uni, but I'm not the biggest fan of seafood in general. I'll eat it if it's served to me, but I rarely seek it out. I will say that having it fresh out of the shell is a completely different experience! It was buttery and not too "fishy" for my taste, and I'm surprised to say, I'd like to go back for more!
Pin

Pin
Pin

Pin
Pin
Pin
Besides the sea urchin, we also tried some oysters, raw and grilled, and we even got a taste of grilled stingray. All of the seafood you find at Poppa's can be prepared for you there or packed up to bring home. You can even find them at a few different farmers market throughout the week.
Pin
Pin
The farmers market was enjoyable, and it wasn't overly crowded at 10:30-11 AM. We'll definitely be back to check out some of the other food stalls and pick up some more fresh produce. After reading Omnivore's Dilemma, we've been hoping to frequent farmers markets more often.
Pin

Pin

Pin
Pin
This stall had the cutest branding!
Pin

Pin

Pin
Pin

Pin

Pin
Pin
Pro Tips for the Hillcrest Farmers Market San Diego:
Go early or go late! Like any farmers market, the earlier you get there, the more selection you have. If you go late, you will get the better deals.
Find out what's in season.
A lot of vendors carry similar produce, so look through the entire place and compare prices first. Also, if you want the better deals, buy in bulk.
Don't assume everything at the Farmers Market is organic. If you'd like, you can even ask the farmers where their farm is located, what their practices are, and whether you can visit.
Always bring cash. Some vendors accept credit cards but not all.
Some people suggest you bring your own bags since the bags they give you are flimsy, but we've never had issues.
Parking: We drove along the residential streets south of University to find street parking. There is a free Trolley in case you have trouble finding parking.
If you still haven't gotten enough shopping after the market, Hillcrest has a ton of thrift stores along University that you can check out.
See other farmers markets in the San Diego area here.
Hillcrest Farmers Market
3960 Normal Street (Hillcrest DMV Parking Lot)
San Diego, CA 92103
9AM to 2PM
What is your favorite farmers market? What do you typically buy or look for when you're shopping at a farmers market?