Ever since moving to the west coast, we've heard a lot about Palm Springs. It seems to be everyone's favorite getaway spot, so we finally decided to take a trip out there ourselves.
We stayed at the Del Marcos Hotel close to the downtown in the historic Tennis Club neighborhood.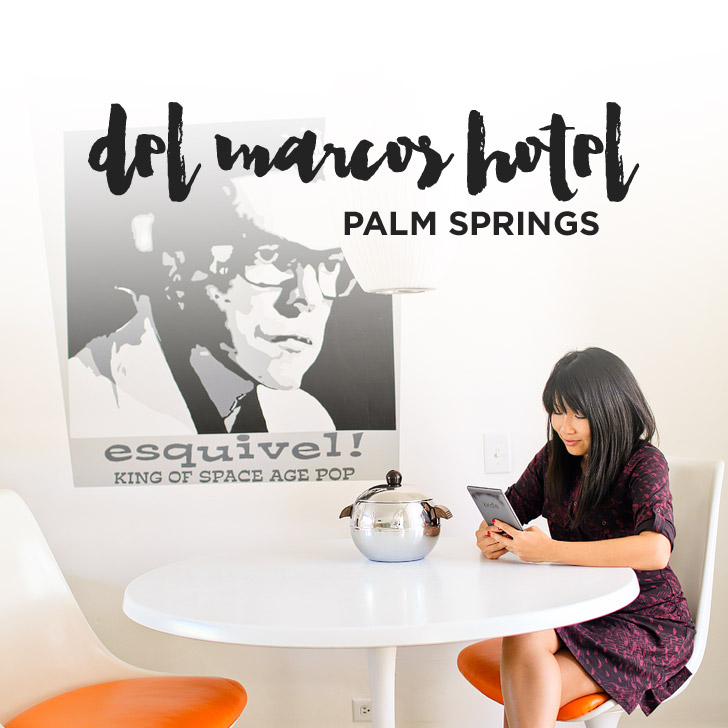 Pin
The hotel was built in 1947 and designed by William F. Cody, which launched his career in the desert. The architecture has won awards, and it became a historic site in 2012.
Pin
The hotel centers around their pool where there are plenty of places to lounge around and a beautiful cabana to hide away from the sun. If you're looking for more privacy, they even have an upstairs room with a private balcony where you lounge looking over the pool.
Pin
Pin
Native stone, redwood, bright colors, and white walls set the perfect mid century mood for the hotel. There are 17 unique rooms to choose from ranging from regular rooms with just a bed to suites with kitchens. We stayed in the Esquivel Deluxe Room and loved how much space we had.
Pin

Pin
Pin
Pin

Pin

Pin
Pin

Pin
The unique entrance and lobby is home base to checking in and also where they serve breakfast every morning.
Pin
Pin
We're so glad that our friend, Mariah, had recommended the hotel to us. We absolutely loved our stay here and would recommend it to anyone else who's hoping to getaway to Palm Springs.
Pro Tips for a Stay at Del Marcos Hotel Palm Springs:
There are a few pet friendly rooms and they have dog bones, toys, waste bags, and tasty treats for your furry friends.
They have bikes that you can use to get around town. First come, first serve.
DEL MARCOS HOTEL
225 West Baristo Road
Palm Springs, CA 92262
+1.800.676.1214
[email protected]
Have you been to Palm Springs? Where have you stayed and what did you do?