When it comes to nice hotels, we haven't stayed anywhere that compares to the luxury of The St Regis Bali Resort. The pools that stretched over the entire property were especially dreamy! We've been fortunate enough to stay here two years in a row.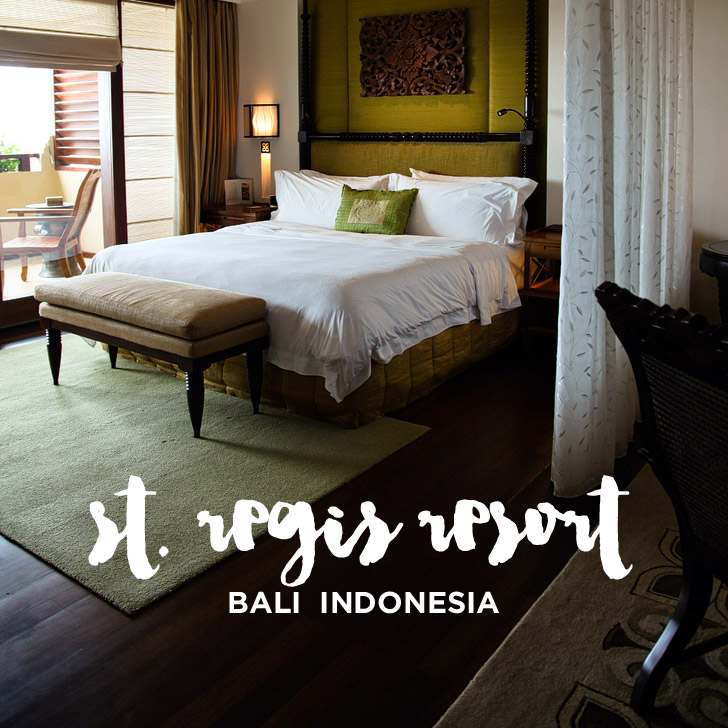 Pin
As we arrived, we immediately knew our stay was going to be special. We were served a selection of fresh squeezed juices during check-in. We never felt rushed to head anywhere, and we enjoyed the Balinese gambang music and ocean breeze coming through the lobby.
Pin

Pin

Pin

Pin
There was a basket of fruit and a handwritten card waiting for us in our room. They addressed it to Jacob's Chinese name. The rooms are beautifully crafted. The design and décor was inspired by the local Balinese culture, and you could see they paid attention to every detail.
Pin

Pin
Pin

Pin

Pin
Pin

Pin

Pin
The resort has a large lagoon/pool that flows throughout the property and a private beachfront. We pretty much spent most of our time hanging out at the pools. I practically lived at the pool when I was a kid, and I don't think I spent as much time swimming since until I came here. Next time we return to Bali, we'll explore the rest of the island, but we barely left resort on our first visit because of how amazing it was.
Pin

Pin

Pin

Pin

Pin

Pin

Pin

Pin

Pin

Pin

Pin

Pin
Pin

Pin

Pin

Pin

Pin

Pin

Pin

Pin
There's even a cute wedding chapel that I dreamed we'd have our destination wedding. We ended up doing our wedding in Atlanta, because too many people would have been excluded from a destination wedding here, but we'd love to do a vow renewal here someday!
Pin

Pin
The resort has a few restaurants we got to try. You can also book rooms that include breakfast, which was easily our favorite part. We're not normally big on breakfast, but the breakfast buffet at The St. Regis was the best we've ever had with lobster and wagyu beef. My mouth is watering just thinking about it!
The St. Regis Bali Resort
Kawasan Pariwisata, Nusa Dua
Lot S6, PO Box 44
Nusa Dua, Bali 80363
This was our very first 5-star hotel experience and now we're hooked!
If you want to know what sets 5-star hotels from others:
Reception opened 24 hours, multilingual staff
Doorman-service or valet parking
Concierge, page boy
Spacious reception hall with several seats and beverage service
Personalized greeting for each guest with fresh flowers or a present in the room
Minibar and food and beverage offer via room service during 24 hours
Personal care products in flacons
Internet-PC in the room
Safe in the room
Ironing service (return within 1 hour), shoe polish service
Turndown service in the evening
Mystery guesting (ie. celebs can use fake names)
Have you ever stayed at a 5-star hotel? Where?
What set them apart from the rest?