The Giada Restaurant opened up in the Cromwell on the Las Vegas strip June of 2014. Since we are fans of her show and cookbook, we were eager to check it out. Her Everyday Italian cookbook is one of first gifts exchanged between us since we both share a love for Italian food.
This was a big deal for Giada since this was her very first restaurant, plus she's only the second female chef to open a restaurant on the strip. It's primarily a boy's club.
Dinners at Giada's were booked weeks in advance, so we decided to try out lunch. Turns out the lunch menu is very different from the dinner menu, which is not a huge surprise, but we were still hoping they still served some of their pasta dishes in smaller portions for lunch.
Pin
Pin

Pin

Pin

Pin
Pin

Pin

Pin

Pin

Pin
WHAT WE ORDERED:
Peperonata with caper berries & macadamia nuts.
Orzo Meatballs with parmeson pomodoro.
Italian Farro – tuscan kale, goat cheese, farro, bing cherries, cucumber, mint vinaigrette.
Birdie – muddled strawberry & basil, Ceylon gold ice tea, Giada's Italian basil lemonade.
OVERALL THOUGHTS:
We want to try the dinner menu at some point, but there was nothing impressive about the food that made us want to return anytime soon. We love cooking up her recipes at home, and we were hoping their dishes would be a level up. We did hear that she had to fire her head chef the day before opening night, so maybe there are a few kinks to be worked out over time. I personally did not like that there was a "Giada" printed on every napkin, every plate, and everywhere you turned. That's just not my style, but mostly my issue was with the food. Just like pretty much everything else we've tried on the strip so far, it was overpriced and underwhelming.
Despite our first visit, I'm still rooting for her! If and when we go back for dinner, I hope it will be an entirely different experience. :) See our other las vegas local adventures here.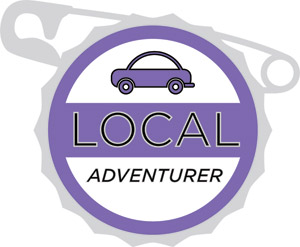 Would you try the Giada Restaurant?
Have you tried a celebrity chef's restaurant before? Which one?
If you've been to Vegas, what's your fave restaurant you've tried?