This is a really easy honey walnut shrimp recipe I learned from Jacob's cousin who happens to be an amazing cook! :) I used to shy away from trying a lot of new cuisines and recipes, but I've been trying to have a growth mindset and be more adventurous in the kitchen.
This is hands down my favorite honey walnut shrimp I've ever tasted. It surpasses all the ones I've tried at various chinese restaurants and of course blows the panda express version out of the water. I was impressed when I first tried it, so thanks Jess for sharing this recipe with us!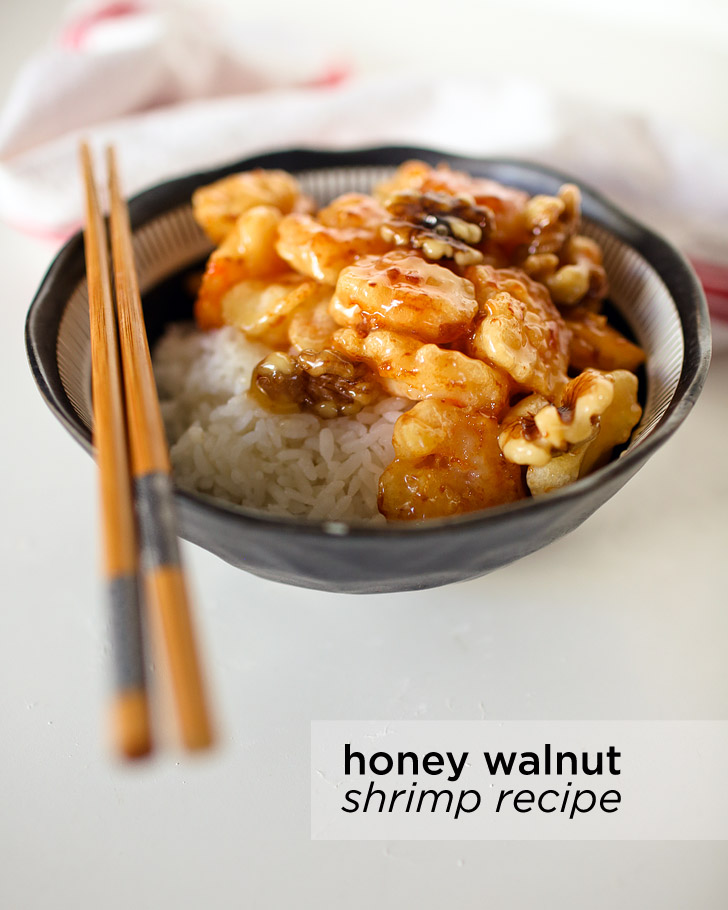 Pin
Easy Honey Walnut Shrimp Recipe
Ingredients:
1 cup water
2/3 cup sugar
1/2 cup walnuts
2 egg whites
1/3 cup mochiko (sweet rice flour)
1 cup vegetable oil
1 lb large shrimp, peeled and deveined
1/4 cup mayonnaise
2 Tablespoons honey
1 Tablespoon sweetened condensed milk
Directions:
Stir the water and sugar in a small sauce pan and bring to a boil.
Add walnuts and boil for 2 minutes to make the candied walnuts.
Drain walnuts and dry on a cookie sheet.
Whip egg whites in a medium bowl until foamy.
Stir in the mochiko until pasty to make the batter.
Dip shrimp into the batter.
Fry shrimp in oil in a deep skillet over medium high heat until golden brown (approx 5 mins).
Drain on paper towels to get off the excess oil.
In a medium serving bowl, stir the mayo, honey, and condensed milk to make a sauce.
Toss the shrimp in the sauce until it's evenly coated.
Sprinkle candied walnuts on top and serve.
Chef's notes:
You can also buy candied walnuts and skip steps 1-3 or I don't like walnuts much so sometimes I skip it altogether.
I halved her original recipe for the batter because we had so much leftover.
Frozen shrimp is okay too. That's what we normally use and thaw beforehand.
Some recipes leave the tails on, but we took them off because they're easier to eat that way.
Pin

Pin
Pin

Pin

Pin

Pin

Pin
Have you tried honey walnut shrimp before?
What's your favorite thing to order at a Chinese restaurant?