Before we get into the Inca Trail packing list, we wanted to talk about booking your trip. There is a restriction of the number of people allowed on the Inca trail every day, so they recommended booking at least 4 months in advance. Although we were flexible with our dates, we booked 4 months ahead and even then we saw that some of the dates were not available. We booked Info Cusco as our tour group and did the traditional Inca Trail hike for 4 days and 3 nights in early August. They were not the cheapest option or the most expensive, but overall we loved our experience. We also recently went to Patagonia with OneSeed and they now have the Classic Inca Trail hike.
Your Essential Inca Trail Packing List (what they recommended + additions of our own):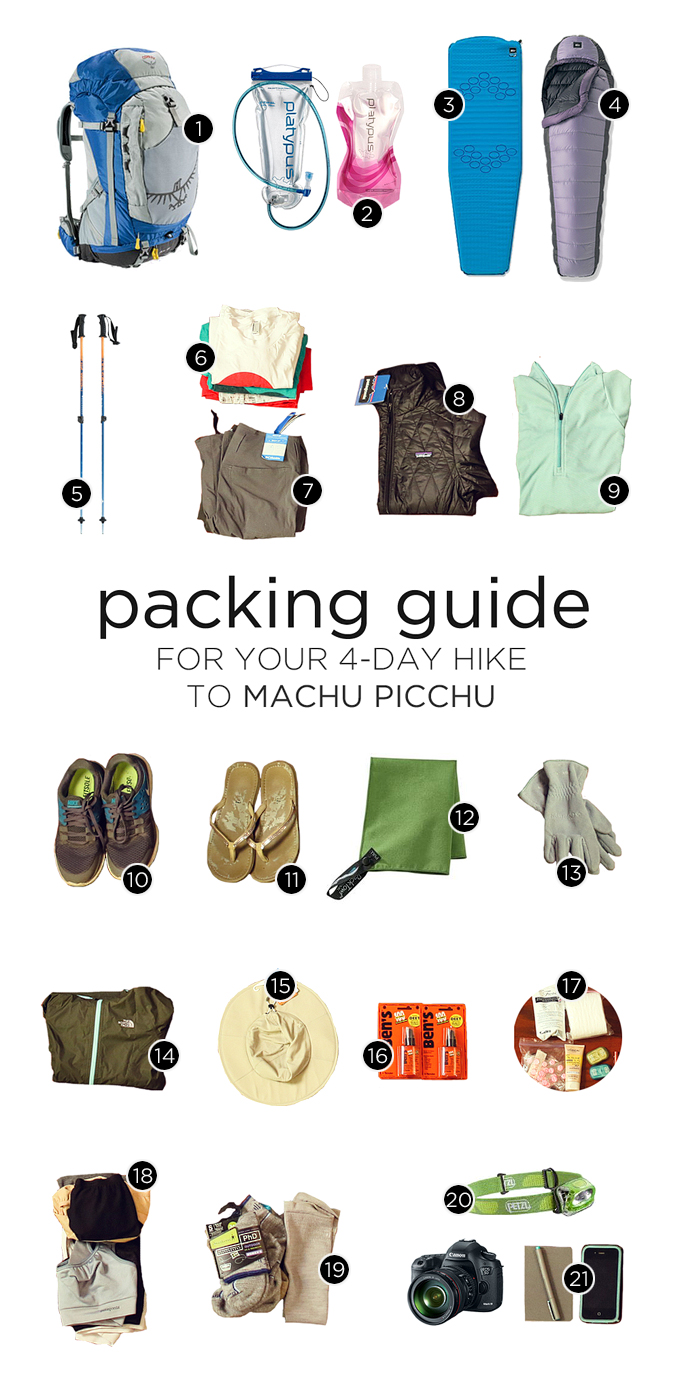 I updated the photo to look nicer and links below, but here's the old one. :)
Inca Trail Packing List For Your 4-Day Hike:
CLOTHES
Six quick dry t-shirts: One per day + two extra in case we got drenched in rain. These are my current fave quick dry tees (I have 3). They're great for hiking and day-to-day.
Two zip-off hiking pants: I brought these two convertible hiking pants. Personally, the Columbia one is a fit better than the REI ones. Jacob brought these in the color blade.
A light, warm jacket: We absolutely love these nano puff jackets from Patagonia. We wear them all the time.
Layers! We brought Patagonia Capilene layers (2 each) in midweight and thermal weight and long underwear. It's good to have options since the temps fluctuate so much. The long underwear is especially great to sleep in at night as it gets very cold.
Socks: We wore these compression socks during the night to reduce muscle soreness.
Undergarments: The exofficio ones are awesome! Jacob got the men's boxer briefs. They stay really dry during the hike. I know their package says "17 countries, 6 weeks, One pair of underwear." We brought one for every day. *shrug* If anyone has tried the 6 weeks in one pair of underwear, please tell us how it is!
Gloves: It gets really cold in the mornings and at night. Preferably ones that have grip for morning hiking. And waterproof if you get rained on.
Rain Jacket: We have these stretch rainshadow jackets (feels nicer on the inside than the vinyl) When we got to Peru, we were told that we also need long ponchos (when it rains, it pours), so we bought them for 5 soles (approx 2 USD) at Day 1's breakfast stop. Again, it didn't rain, so we didn't end up using either. *Update: Ended up exchanging our North Face for Patagonia's Torrentshells.
OPTIONAL ITEMS IN THE INCA TRAIL PACKING LIST
Now, as you can see below, I take my snacks very seriously… it ended up weighing over 10 pounds. If you're an avid hiker, then you probably know this is a big mistake. The energy blasts & the bars were the most useful on our trip. We even had some extra to share with our guide and porter. If I had a do-over, I would have tossed were the haribo gummy bears. As much as I love them, they were so so SO ridiculously heavy. I felt like an idiot.
Now enjoy your hike!! Book your trip HERE.
If you blog about your hike, please feel free to leave a link your post in the comments section. We would love to see them!
Anything else I missed on our Inca Trail packing list that you would like to add?
Updated: October 27, 2019