Last week, we made roasted veggies from a recipe my friend, Kym, gave me.  It was a simple enough recipe and a crowd pleaser, so I decided to share it. It's probably a little late for any holiday cooking, but you can keep it in mind for the holidays next year!  I'm definitely cooking them for Thanksgiving & Christmas next year. If you guys try it, please let me know how you like it! ;)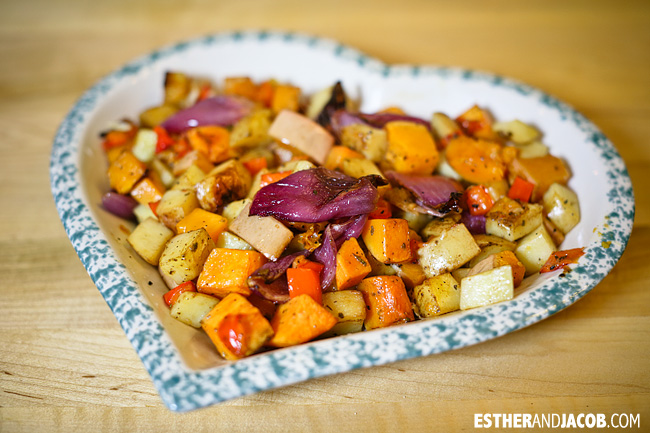 Pin
Ingredients:
1 small butternut squash, peeled and cubed

2 red bell peppers, seeded and diced
1 sweet potato, peeled and cubed
3 Yukon Gold potatoes, cubed
1 red onion, quartered and separated into pieces
1 Tablespoon fresh thyme, chopped
2 Tablespoons fresh rosemary, chopped
1/4 cup olive oil
2 Tablespoons balsamic vinegar
Salt and Pepper
Directions:
Preheat oven to 475 degrees F (245 degrees C)
In a large bowl, combine the squash, red bell peppers, sweet potato, and Yukon gold potatoes, and red onion.
In a small bowl, stir together thyme, rosemary, olive oil, vinegar, salt, and pepper.
Toss with the vegetables until they are evenly coated.
Spread evenly in a large roasting pan
Roast veggies for 35-40 minutes or until cooked through and browned, stirring every 10 mins.
I do a recipe a month, and you can check out some of the others if you click on the banner below:

Pin

Pin


Pin