I've been seeing all sorts of unique and beautiful caprese salad recipes on pinterest, and have been wanting to try some of them myself. I love caprese salads because they are so colorful and tasty, but also simple to make! We just recently joined a new small group, where they have dinner beforehand and everyone brings a dish. It was just the perfect excuse to try several of these recipes out & complete my may recipe for my 13 in 13.
Here's how I've normally seen it served: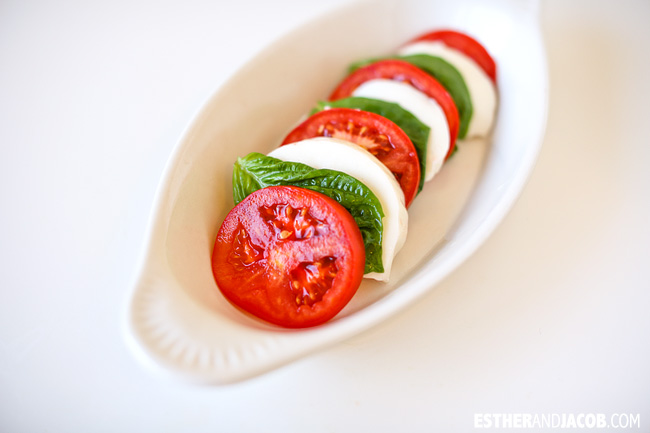 Pin
Here are the 6 unique twists to make a caprese salad: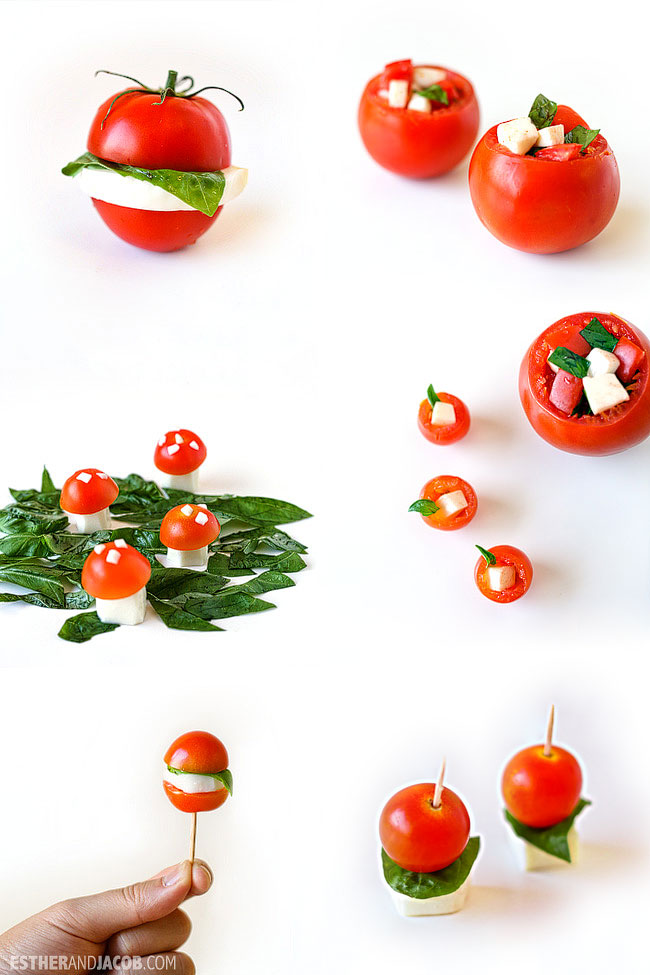 Pin
1. Roman Layered Caprese Salad:
Pin
The first one is pretty simple. You use a medium size tomato and slice it in half. Then sandwich a large basil leaf and a slice of fresh mozzarella with the tomato.  You can slice it even further to have multiple layers, and reconstruct the shape of the tomato.
2. Stuffed Caprese Salad in Tomato Cups Recipe: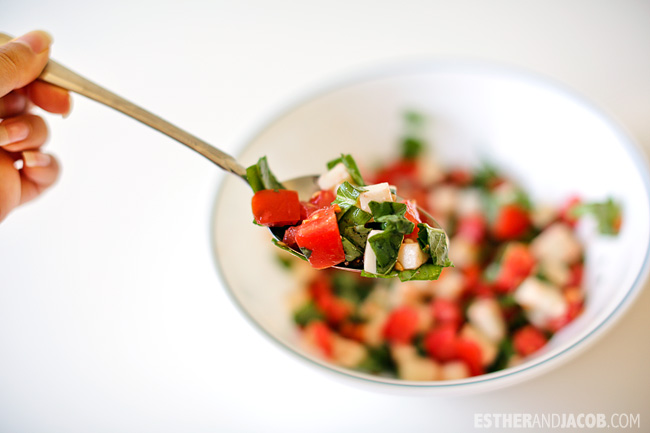 Pin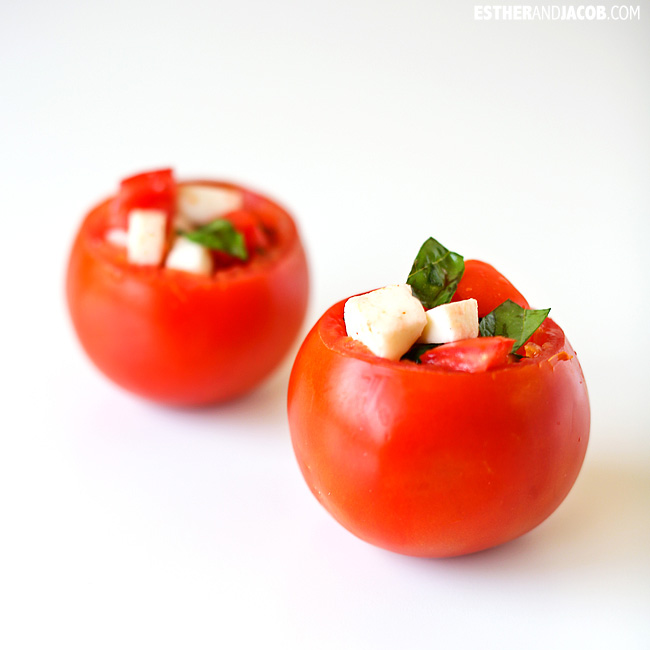 Pin
Ingredients (makes 4):
1/4 lb of fresh Mozzarella
5 medium sized tomatoes
1/4 cup / handful of fresh basil
salt and pepper to taste
Directions:
Slice off the tops of  the four tomatoes. Scoop out the insides and discard to create tomato cups.
Chop up the remaining tomato, mozzarella, and fresh basil. Place in a bowl.
Mix in salt and pepper
Scoop the tomato, mozzarella, and fresh basil into your tomato cup.
Drizzle balsamic dressing on top  (recipe below)
3. Magic Mushroom Caprese Salad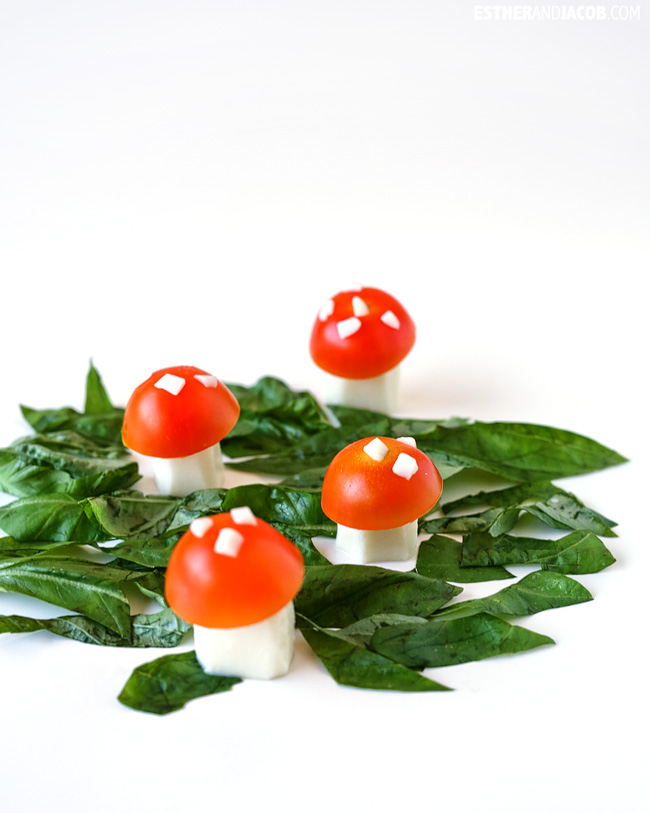 Pin
This one is totally form over function. Halve cherry tomatoes as the mushroom top. Shave down the mozzarella to make the trunks. Chop up tiny pieces to make the dots that go on top of the mushroom (optional). Drizzle with balsamic vinaigrette dressing (recipe below).
4. Mini Caprese Salad in Tomato Cups: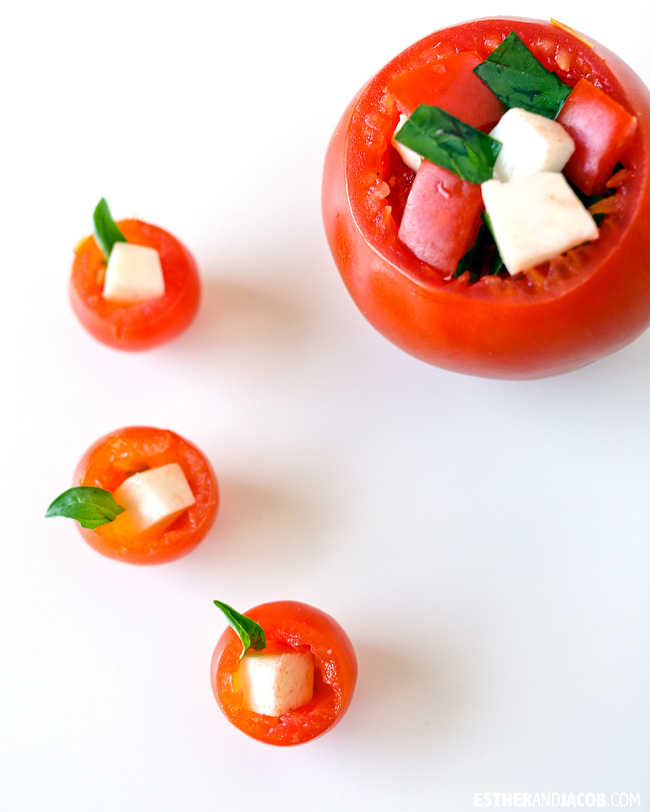 Pin
Same as the larger stuffed caprese salad in tomato cups, you slice the top of the cherry tomato and scoop out the insides. Place a small cube of mozarella inside along with a tiny basil leaf. (It ultimately looks the best if you pick out tiny / baby basil leaves, but you can use a chopped up piece of basil as well).
5. & 6. Mini Caprese Salad Skewers:
Pin
You can probably figure these out easily from the photo, but here's an explanation in case you like it written out: For version 1, you slice cherry tomatoes in half. You can buy the small mozzarella balls and slice those up because they are the perfect size (I ended up just cutting up small slices from my pound of mozzarella instead). Chop up basil to the appropriate size and put a toothpick through it.  For version 2, you chop up a cube of mozzarella and piece of basil similar in size to your cherry tomato, and put a toothpick through all three.
Balsamic Dressing Recipe For Salad:
Ingredients:
2 tablespoons balsamic vinegar
1 tablespoon red wine vinegar
4 tablespoons extra virgin olive oil
1 teaspoon sugar
salt and pepper to taste
Directions:
Mix all ingredients without the oil
Add oil and mix well with whisk. I poured it into a mason jar and shook it.
And just a few other's I've found and also loved!
I do a recipe a month, and you can check out some of the others if you click on the banner below:

Pin

Pin


Pin