These are the places you want to be this fall for the best fall foliage in the USA.
The fall season is upon us and we couldn't be more excited. Forget the PSLs! Part of the reason we moved to NYC this year is to have easy access to the country's most beautiful fall foliage.
Besides the obvious like New England or Blue Ridge Parkway, we came up with a list that includes other lesser-known fall destinations that also deserve a visit this season.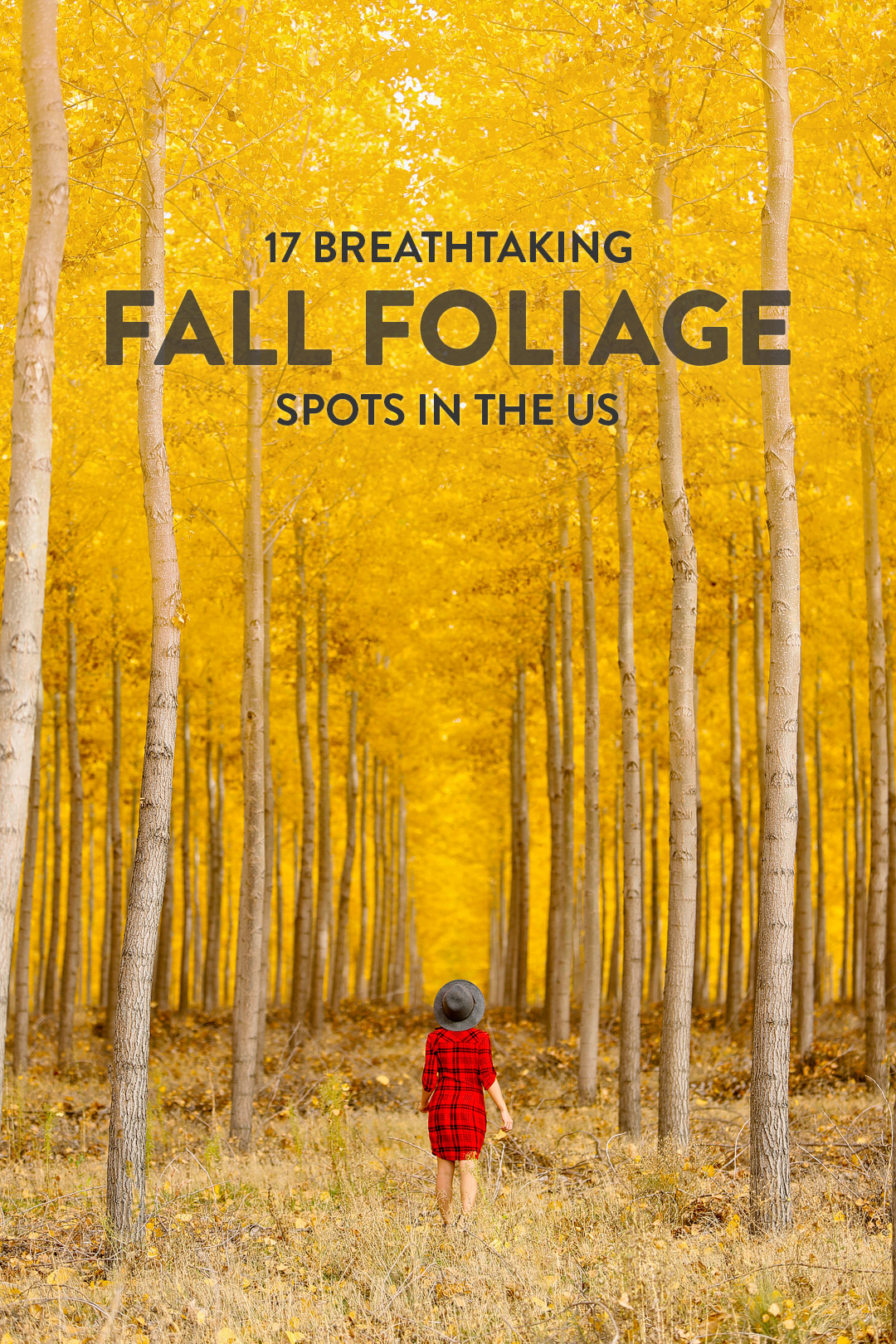 A big thank you to Zipcar for sponsoring this post. All opinions are always our own. This post may contain affiliate links, where we receive a small commission on sales of the products that are linked at no additional cost to you. Read our full disclosure for more info. Thank you for supporting the brands that make Local Adventurer possible.
Last Updated: August 11, 2023
17 Breathtaking Road Trip Destinations to See the Best Fall Foliage in The USA
Go if: You love waterfalls and fall harvest incorporated menus at restaurants.
Best Time to Go: Mid-October to Early November
Type of Trees: Red Maple, Big-leaf Maple, Vine Maple, Paperbark Maple, Katsura, Sourwood, Persian Ironwood
Portland is the underdog on this list. When we lived there, we were couldn't believe how Portland's beautifully lush landscape was equally rivaled by its autumn colors. We felt like everyone was missing out.
Not only do you get to enjoy the foliage, but a lot of the city's top restaurants feature the fall harvest and the breweries get newly harvested hops to work with. You can take a short drive out to the Columbia River Gorge to admire waterfalls among fiery colors.
Local Tip: Fall brings back the rain, so prep your rain gear. Pdxers wear rain jackets instead of carrying around umbrellas.
See More: 101 Things to Do in Portland Oregon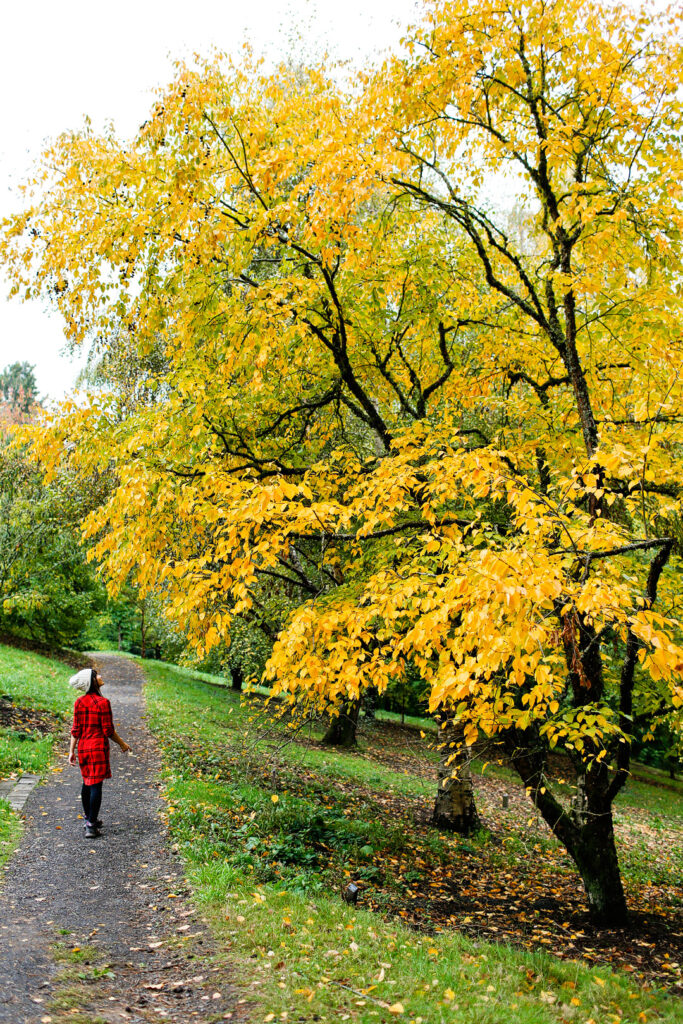 2. Leavenworth, Washington
Go if: You want to celebrate Oktoberfest among the best fall colors.
Best Time to Go: October
Type of Trees: Vine Maples, Cottonwoods, Dogwood, Alder
Leavenworth is a Bavarian-style town just over 2 hours from Seattle. It's a great place to visit in the fall for two reasons. First, it's one of the best places in the state to see fall foliage. Head to Lake Wenatchee to see the bright yellow trees reflected in the water. 
Secondly, one of the most extravagant Oktoberfest celebrations in the US happens here. So, head here to grab a beer and enjoy the colors of the Cascade Mountains.
Leavenworth is also a great place to boulder. We've climbed here three times and always want to go back!
See More: 15 Best Day Trips from Seattle Washington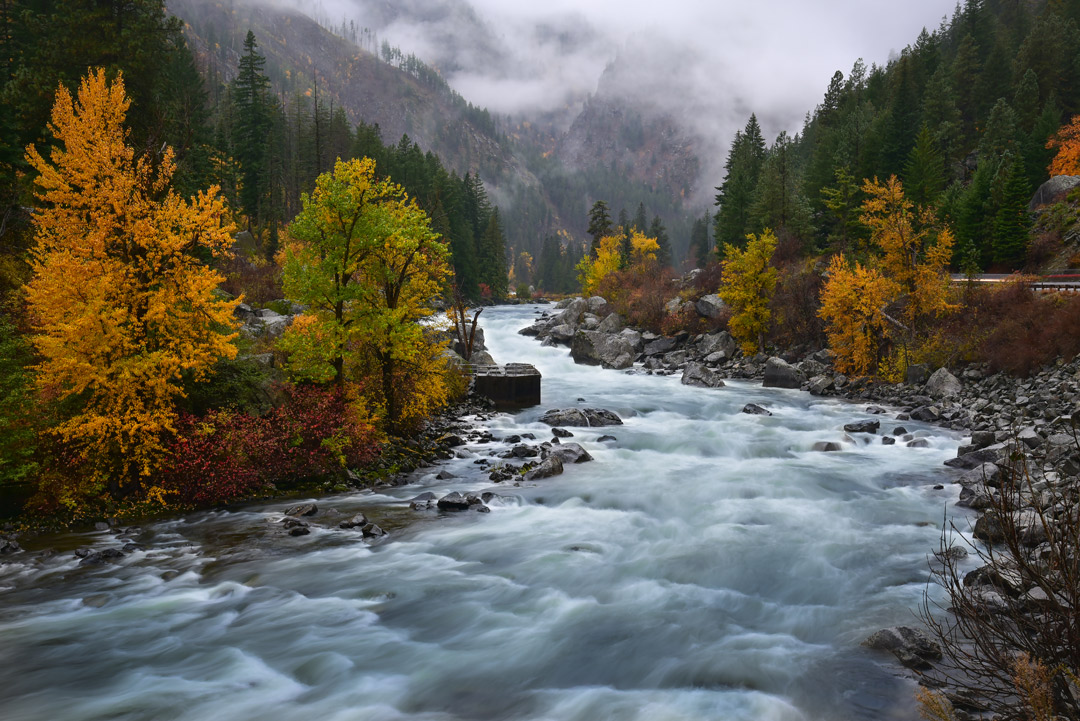 3. Shenandoah National Park, Virginia
Go if: You love exploring National Parks and love scenic drives.
Best Time to Go: October
Type of Trees: Chestnut Oak, Red Oak, Maple
The most popular viewing spot here is Skyline Drive, which gives you 105 miles of scenic byways to see the brilliant colors in the Blue Ridge Mountains.
They also hold an annual Shenandoah Fall Foliage Bike Festival where you pick from 11 different rides to enjoy the views.
See More: Your Complete List of All National Parks in the US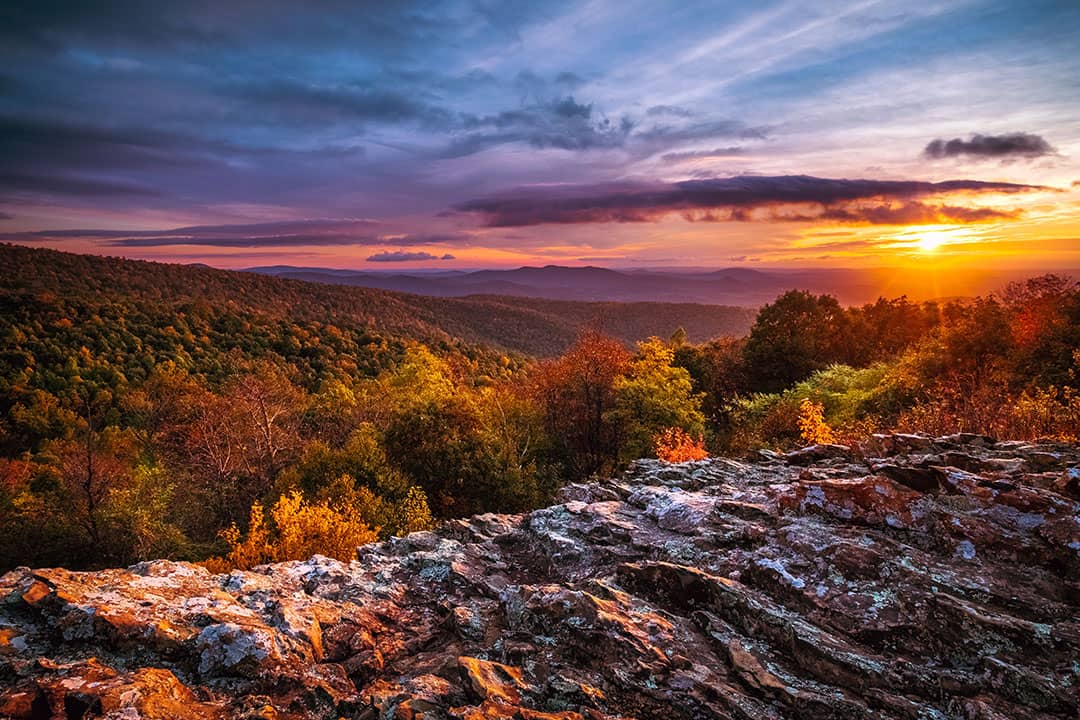 4. Mackinac Island, Michigan
Go if: You're looking for a quiet getaway. This island in Lake Huron is the perfect spot for you.
Best Time to Go: Early October
Type of Trees: Sugar Maple, Red Oak, Beech
It's filled with Victorian architecture and because no cars are allowed on the island, you are literally forced to slow down. The resort on the island is also a National Historic Landmark.
Local Tip: If you can't make it to the island, you should try to check out Michigan's Upper Peninsula. If you visit late September/early October, you're sure to find beautifully vibrant reds, oranges, and gold. Porcupine Mountains Wilderness State Park is a great place to explore and there are a ton of waterfalls here too.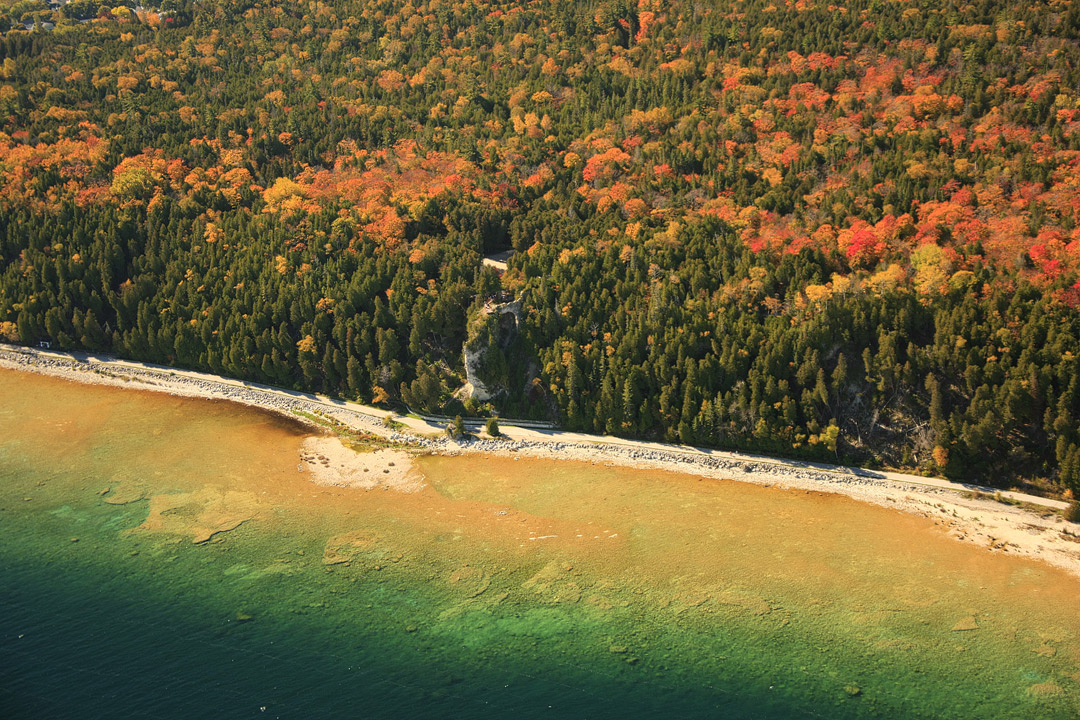 5. Great Smoky Mountains National Park, Tennessee
Go if: You live in the southeast and for the long fall foliage season.
Best Time to Go: Mid-October to Early November
Type of Trees: Sugar Maple, Scarlet Oak, Sweetgum, Red Maple, Hickories
The Great Smoky Mountains is well known to have some of the best fall foliage in USA and has one of the longest fall foliage seasons.
They can appear as early as mid-September and can run all the way to mid-November, although October is the best time to visit.
You get the whole range of colors in the park since there are over 100 species of trees, and the Blue Ridge Parkway puts them on the map for one of the most scenic drives in the country.
Local Tip: Clingman's Dome is the highest point in the state and a great place to see an endless ocean of fall colors.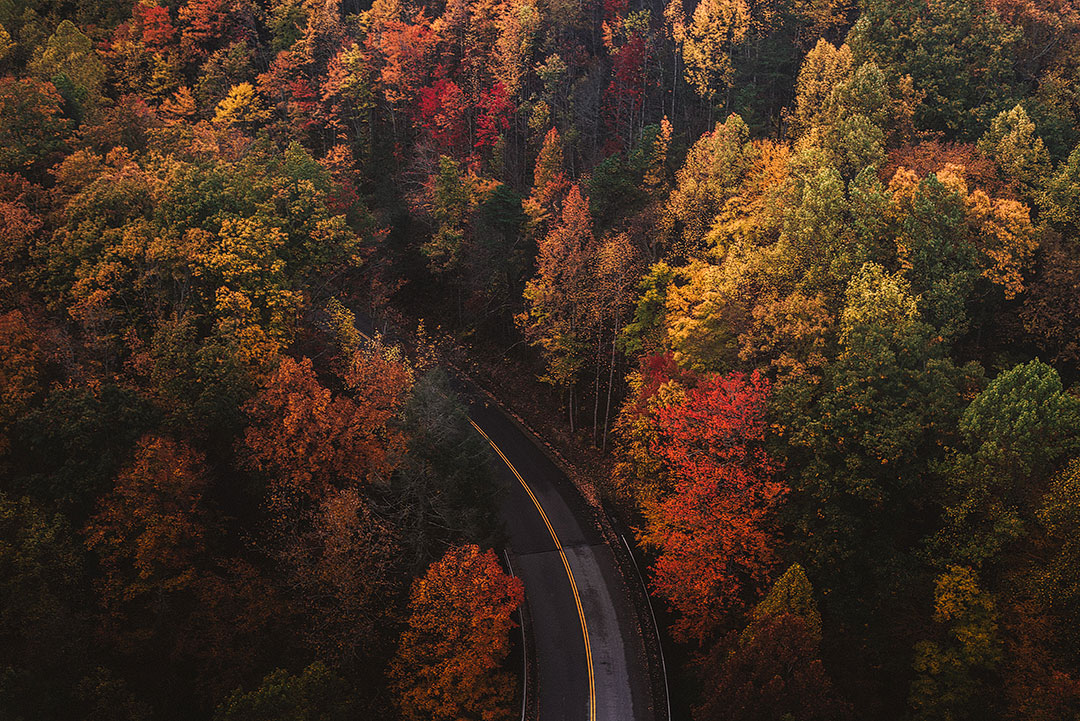 6. Denver, Colorado
Go if: You're looking for outdoor adventures with the comforts of a city.
Best Time to Go: October to Mid-November
Type of Trees: Ash, Hackberries, Sycamore, English Oak Trees
You have a bunch of different options to see fall foliage in the Denver area. The resort towns outside of the city will start to see the color first before heading into the city.
This is also a great destination for beer lovers, with the Denver Oktoberfest, the Denver Beer Fest, and the Great American Beer Festival all happening in the fall.
Local Tip: For a truly magnificent showing, head to Rocky Mountain National Park where you can see the golden canopies of the quaking aspens.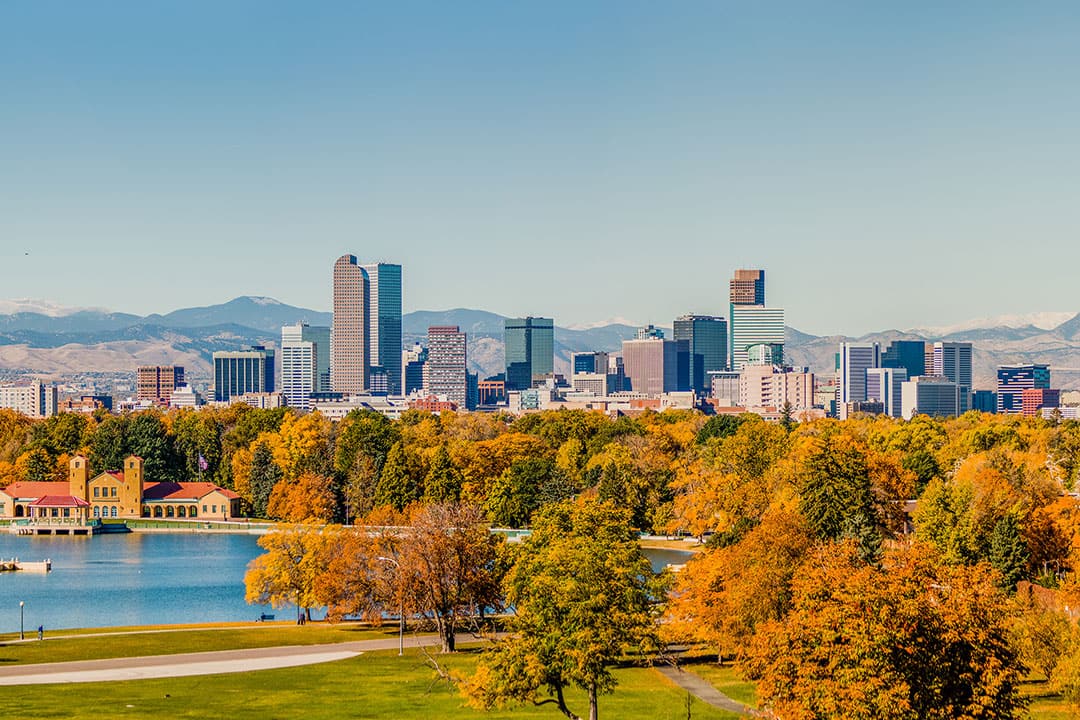 Go if: You want to go hiking or climbing with beautiful fall foliage.
Best Time to Go: October
Type of Trees: White Birch, Red Maples, Yellow Birch, Sugar Maples, White Ash, Beech
We're headed up here in October and couldn't be more excited! The beautiful hues of autumn can be found in Acadia National Park contrasted by the deep blue sea.
Head up to Cadillac Mountain for the area's best overview or hike one of the many trails.
Local Tip: If you have extra time, you can make the 3-hour drive over to Portland, Maine as well. Bradbury Mountain is a popular spot for foliage, and you can get your fill of lobster and lighthouses.
See More: 15 Breathtaking Things to Do in Acadia National Park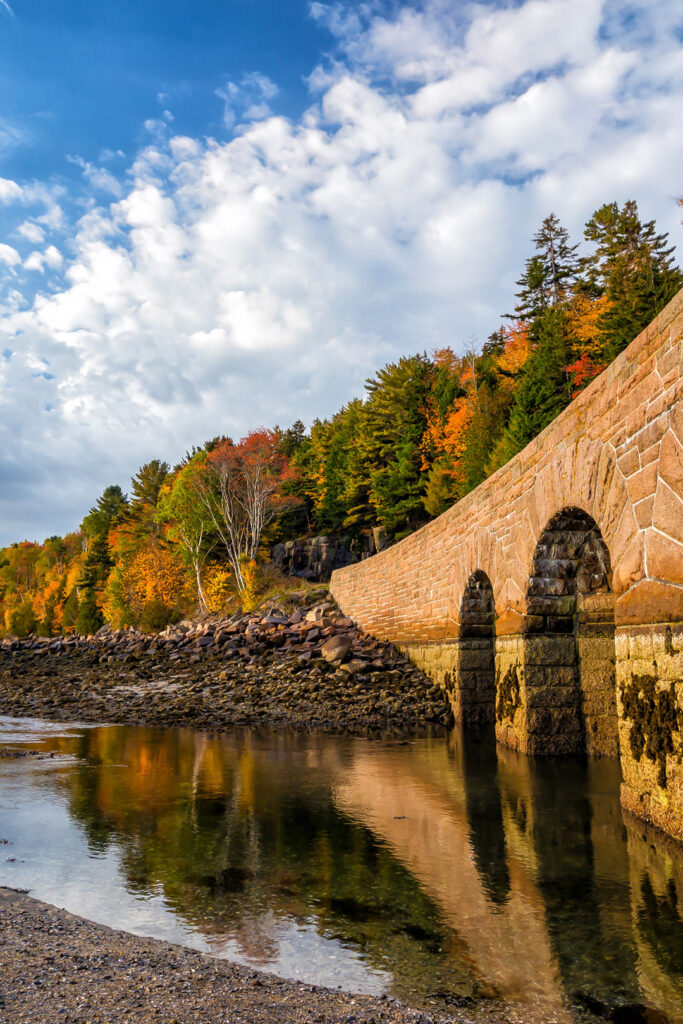 Go if: You want urban adventures with fall colors. Our favorite time in the city.
Best Time to Go: October
Type of Trees: Beech, Dogwood, Red Oak, Mountain Ash, Quaking Aspen, Sycamore, Red Maple
Fall in NYC may be overshadowed by their Christmas celebrations, but we love how Central Park completely transforms in fall.
Whether you want to head up to the Top of the Rock for an aerial view, hunt down Central Park secrets, or enjoy a nice dinner at one of the restaurants nearby, you should absolutely make time for it if you find yourself in the city. This will be our second autumn season here, and we can't wait!
Local Tip: Don't limit yourself to the southern side of the park. It's the busiest and more touristy area. Head north to explore deeper into the park and find a quiet spot for yourself.
See More: Your Ultimate Central Park NYC Guide With Secret Spots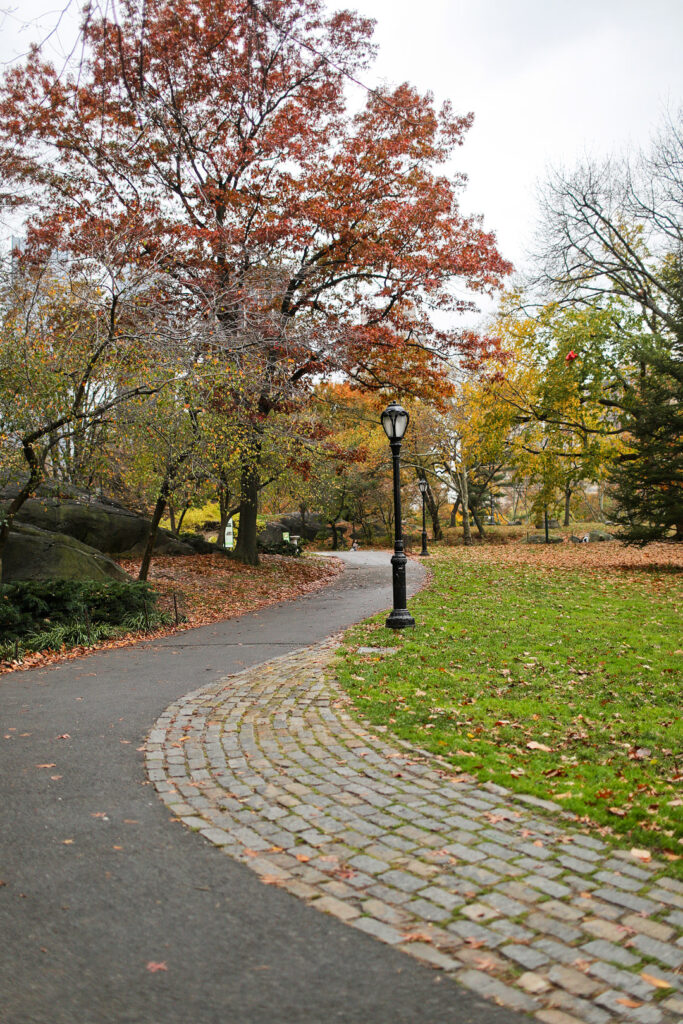 9. Salt Lake City, Utah
Go if: You're looking for better travel rates and fewer people. Fall is the slower season.
Best Time to Go: Late September to October
Type of Trees: Mountain Ash, Black Hawthorn, River Birch, Douglas Hawthorn, Serviceberries
Head to the Big or Little Cottonwood Canyons to see the fall foliage or enjoy the fall festivals, like the Utah State Fair and Oktoberfest.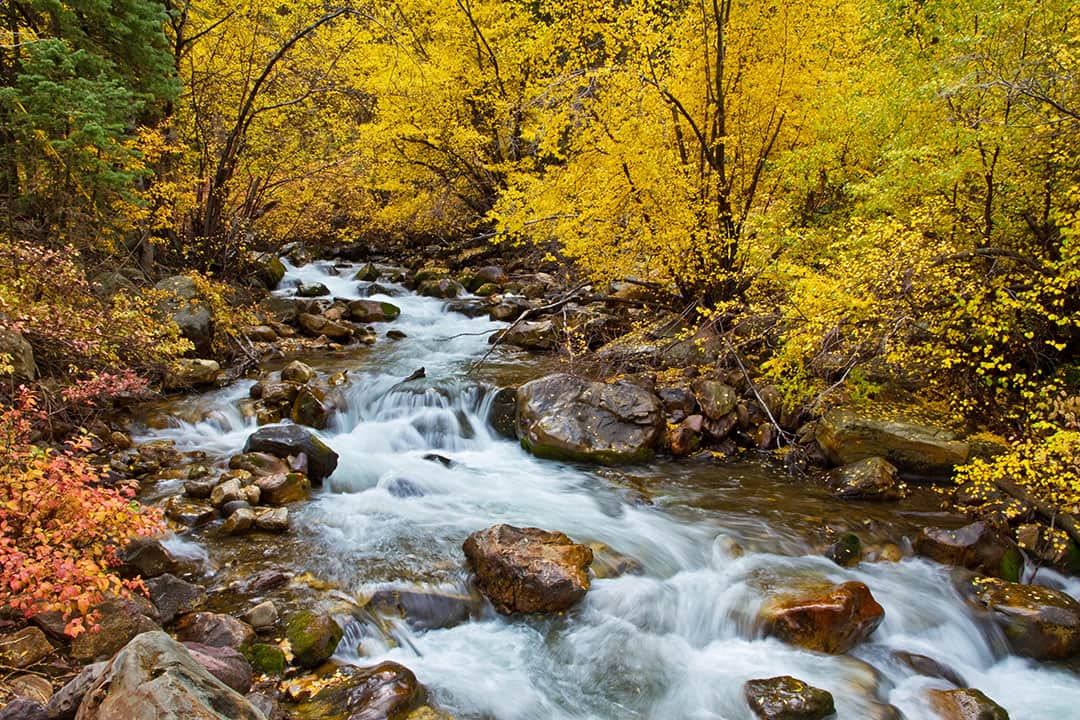 10. Clayton, Georgia
Go if: You're looking to get away from crowds and the city.
Best Time to Go: Mid-October to Early November
Type of Trees: Beech, Dogwood
Clayton is a small town in the foothills of Black Rock Mountain. Not only can you enjoy the autumn colors of the Appalachian Mountains, but you can also whitewater down the Chattanooga River for a unique vantage point.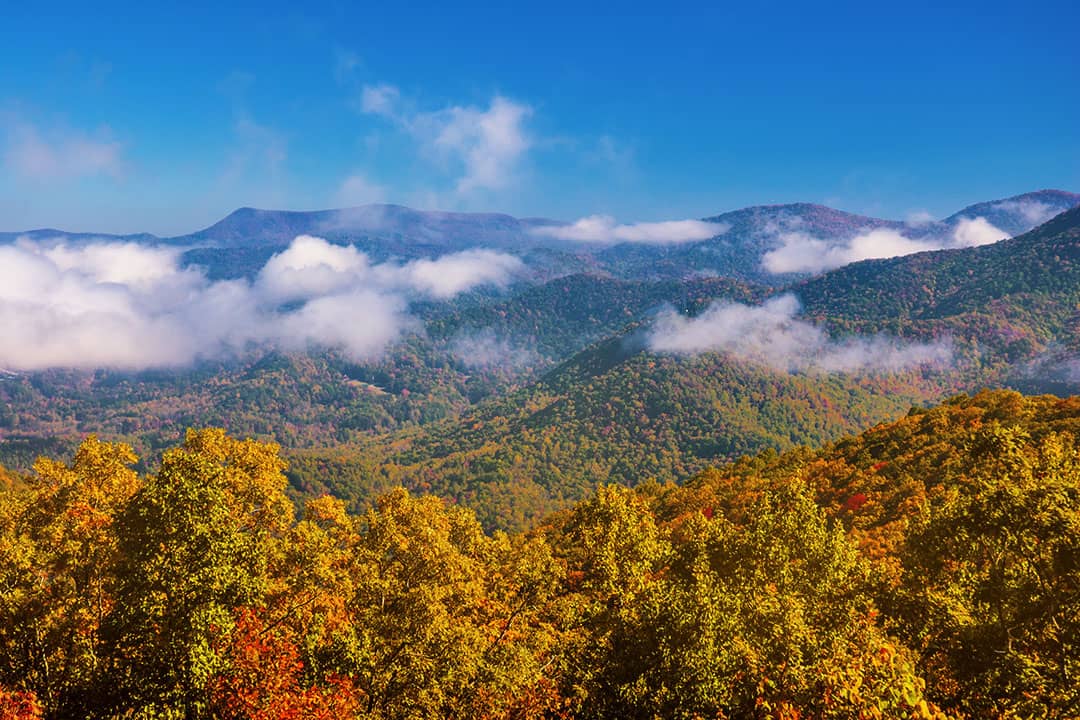 11. Minneapolis / St. Paul, Minnesota
Go if: You want to see the town when the locals love it.
Best Time to Go: Late September to Early October
Type of Trees: Maples, Birch, Dogwood, Smoketree
Head to the twin cities for double the action in the fall. Locals are out and about soaking in the last of the great weather before winter hits, and there are a ton of ways to enjoy the outdoors while taking in the fall colors.
Two of the most popular races happen in the fall: the Minneapolis Bike Tour, which offers multiple routes, and the Medtronic Twin Cities Marathon, which is one of the prettiest urban marathons.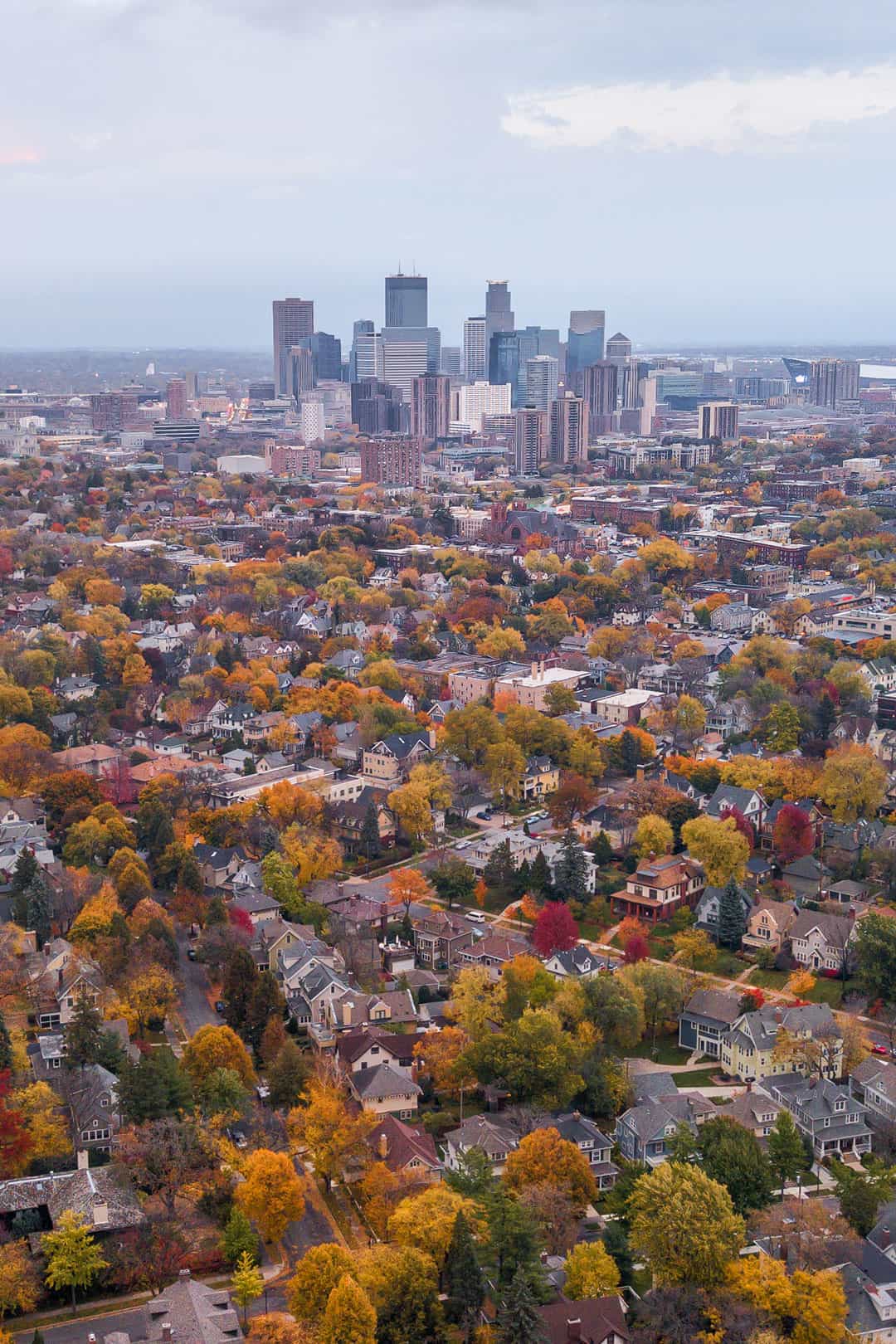 12. Lenox, Massachusetts
Go if: You're looking for picturesque towns covered in fall foliage.
Best Time to Go: October
Type of Trees: Red Maple, Sugar Maple, Dogwood, Beech, Sourwood, Hickories
Picture lakes, farms, meadows, and mountains as the backdrop to the brilliant colors of fall. If you're into leaf-peeping,
The Berkshires attract people from all over each year. Jacob's Ladder Scenic Byway is one of the more popular stretches of road to drive.
13. Boston, Massachusetts
Go if: You love history.
Best Time to Go: October
Type of Trees: Oak, Beech, Chestnut, Maple, Elm
Visit a city steeped in history and education. The local campuses are filled with students, and Harvard's Arnold Arboretum is one of the best spots in the city to enjoy the fall foliage.
See More: 15 Incredible Weekend Trips from NYC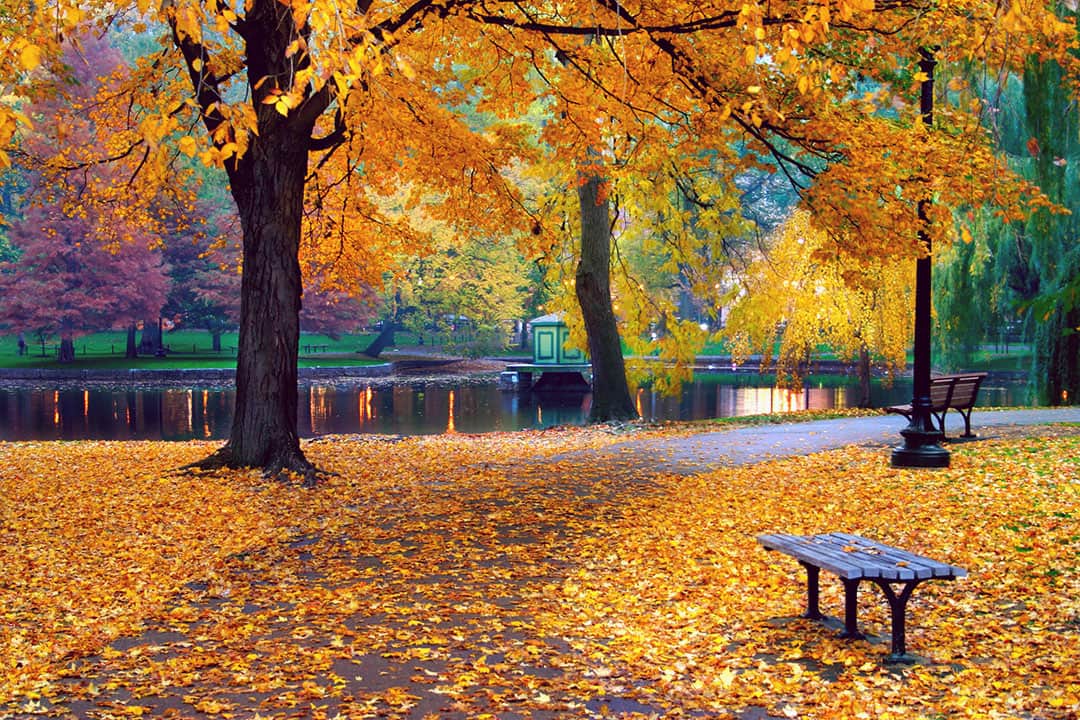 14. Anchorage, Alaska
Go if: You want to visit when prices are lower and crowds have left.
Best Time to Go: Late August to September
Type of Trees: Red Alder, Sitka Alder, Black Cottonwood
Anchorage is one of the few Alaska towns that doesn't close up shop at the end of summer.
Early fall means the prices have lowered, the cruise-ship layover tourists have disappeared, but there is still plenty of beauty to enjoy.
Take the Alaska Railroad to Talkeetna for the best fall foliage, and maybe even spot a moose through the thinning trees. At night, you may even get lucky enough to spot the northern lights.
See More: 17 Unforgettable Things to Do in Denali National Park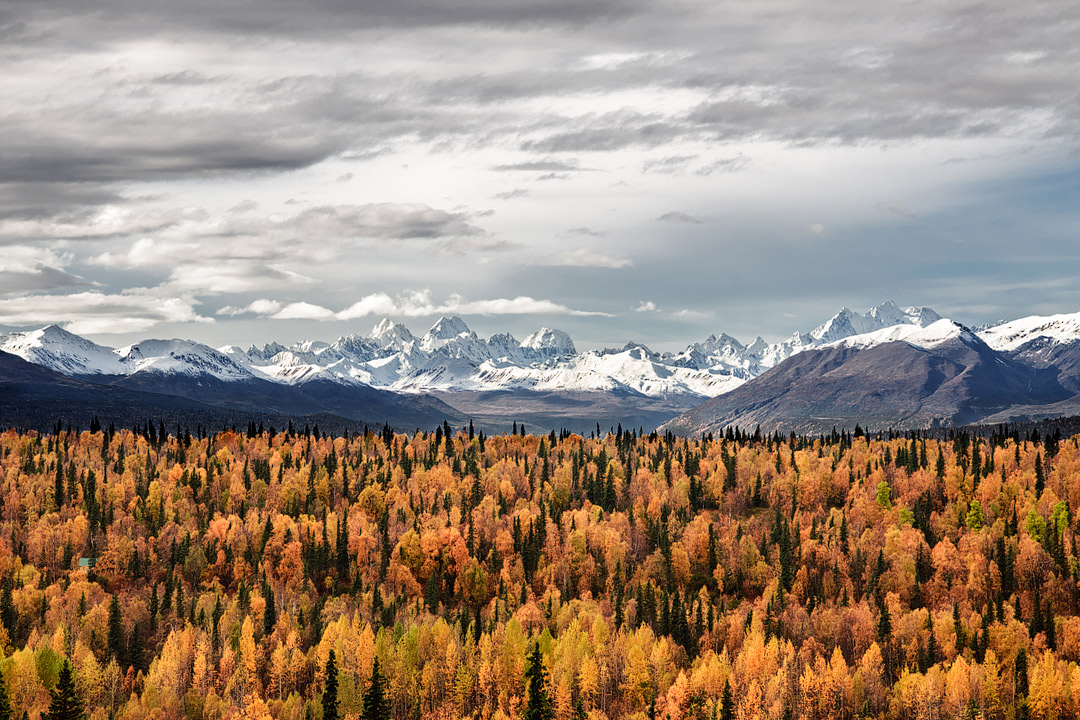 15. Taos, New Mexico
Go if: You're an art lover.
Best Time to Go: October
Type of Trees: Maple, Oak, Beech
Taos is a popular spot for artists, which you'll see through the many galleries in town. As you stroll through the artwork, you'll notice that the fall season is one of the most popular subjects.
The Enchanted Circle Scenic Byway loop takes you through some of the most spectacular fall foliage you'll find in the southwest. Aspens are the main attraction here, but keep an eye out for eagles, elk, and black bears too.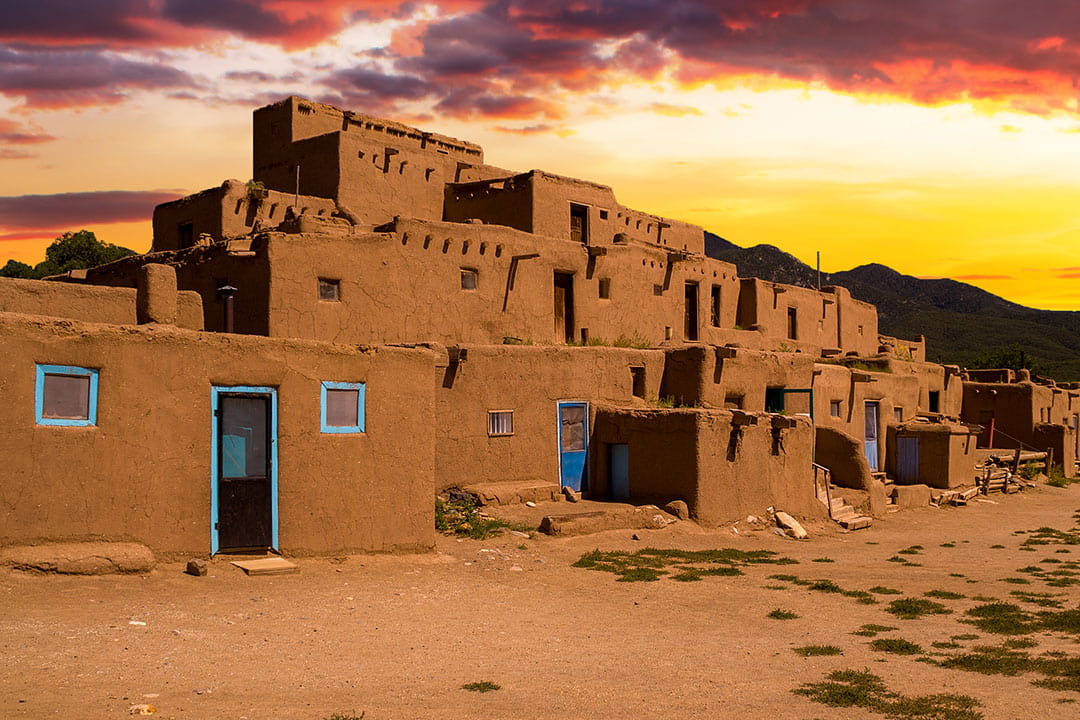 Go if: You love hiking.
Best Time to Go: Late September
Type of Trees: Aspen, Cottonwoods, Birch, Rocky Mountain Maple, Western Larch
This park has a wide variety of deciduous trees, which makes it a great spot to visit between mid-September to mid-October. Among all the trees, the park is famous for its deciduous pine, which turns bright yellow before all the needles fall. Drive along the scenic roads or hop onto one of the trails near Lake McDonald.
Local Tip: Know before you go. If you plan on doing some hiking, be prepared. There are a lot of wild animals and you should know what to expect.
See More: 9 Incredible Things to Do in Glacier National Park Montana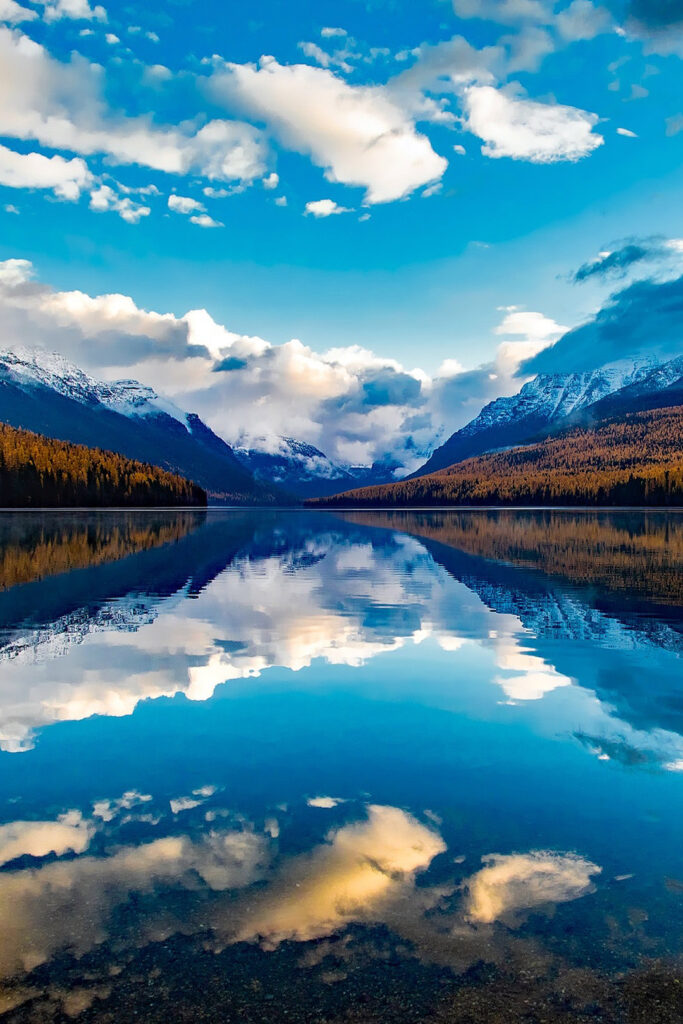 17. Sleepy Hollow Farm, Woodstock, Vermont
Go if: You're looking for an iconic New England fall spot.
Best Time to Go: Late September to Mid-October
Type of Trees: Alder, Beech, Basswood, Aspen, Mountain Ash, Red Oak, Red Maple
Vermont itself is a famous destination for fall foliage, but if you can only go to one spot, check out Sleepy Hollow Farm.
It's one of the most iconic properties in Vermont and ridiculously picturesque. It covers 115 acres and has fields, gardens, trails, woods, and ponds on the property.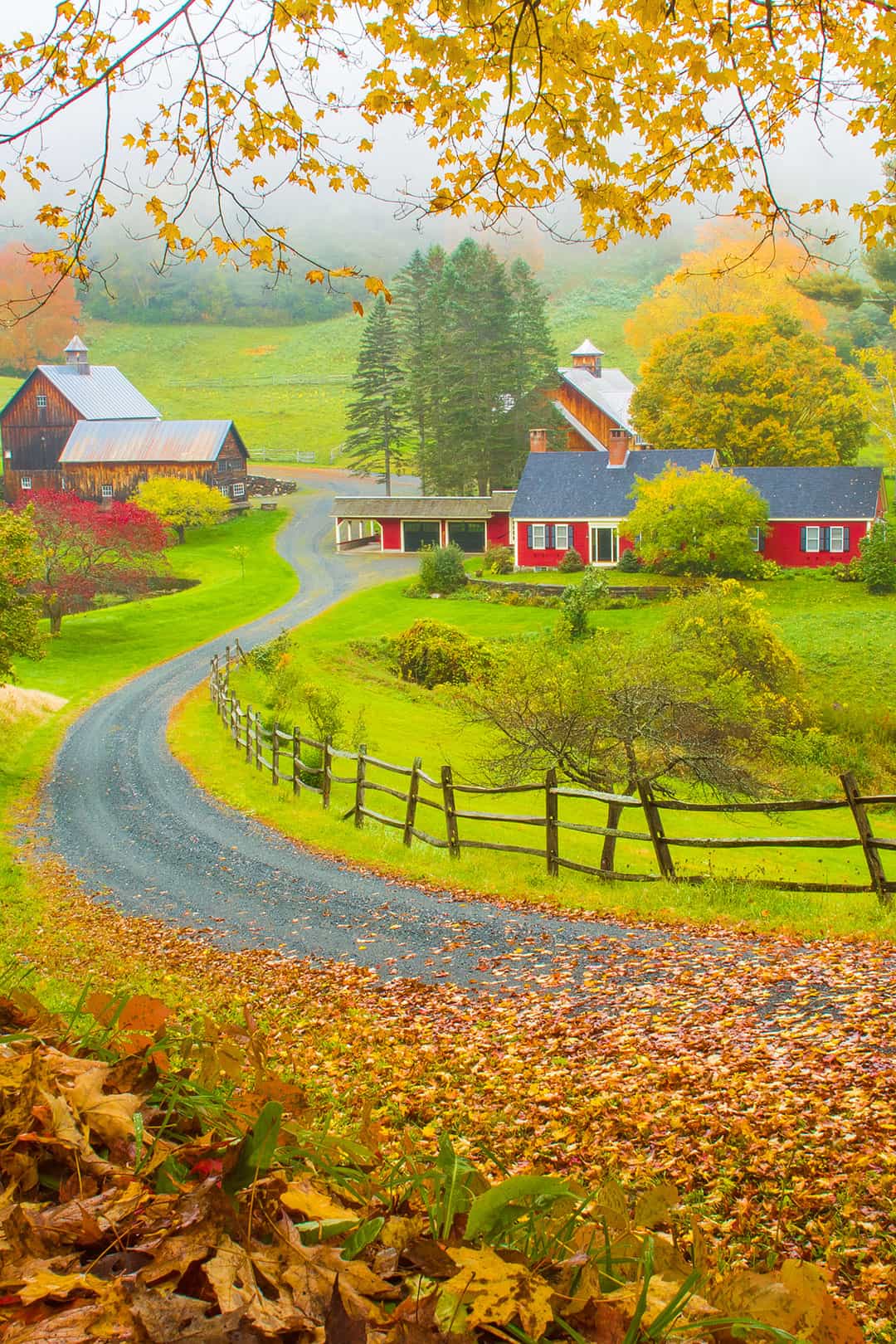 Boardman Tree Farm is one of the best spots for fall colors in the US. It's about 2.5 hours away from Portland, but there is plenty to see in the Columbia River Gorge along the way too. Check out our guide here.
Local Tip: Even though this is one of the most beautiful spots in the United States it is unfortunately closed now, and all the trees have been chopped down.
See More: Last Chance to See the Autumn Colors of the Boardman Tree Farm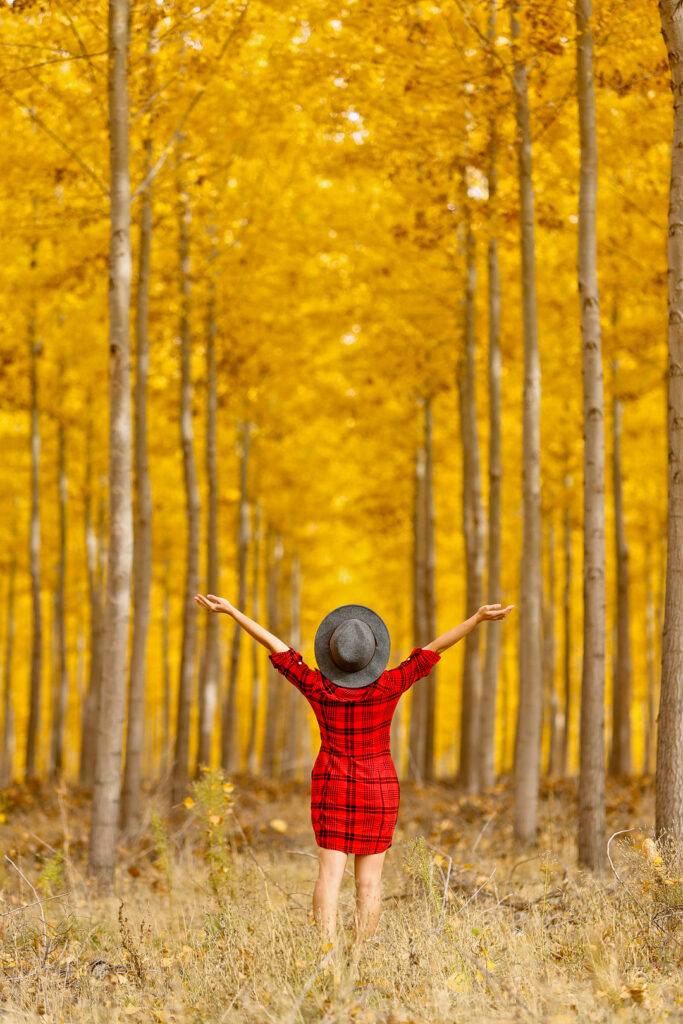 Map of the Best Fall Foliage Spots in the USA
Seen Them All? Here are More Fall Foliage Destinations In the US
Adirondacks and Cooperstown, New York
Brevard and Weaverville, North Carolina
Cape Jay, New Jersey
Charlestown, Rhode Island
Door County, Wisconsin
Duluth, Minnesota
Jasper, Arkansas
Jefferson, New Hampshire
Kent and Litchfield Hills, Connecticut
Lancaster and Milford and Wellsboro, Pennsylvania
Manchester and Stowe, Vermont
Oakland, Maryland
Don't Have a Car?
Even if you don't have access to a car or you don't have the best car for a road trip, that should never stop you from going on an adventure.
We sold our car before moving to NYC but signed up for Zipcar to help us explore the Northeast. It helps us go on impromptu trips and run local errands. The signup process is really simple, and now, when we need a car, we can log on to the app, select the vehicle and we're on our way.
Sign up with this link to get a $25 driving credit.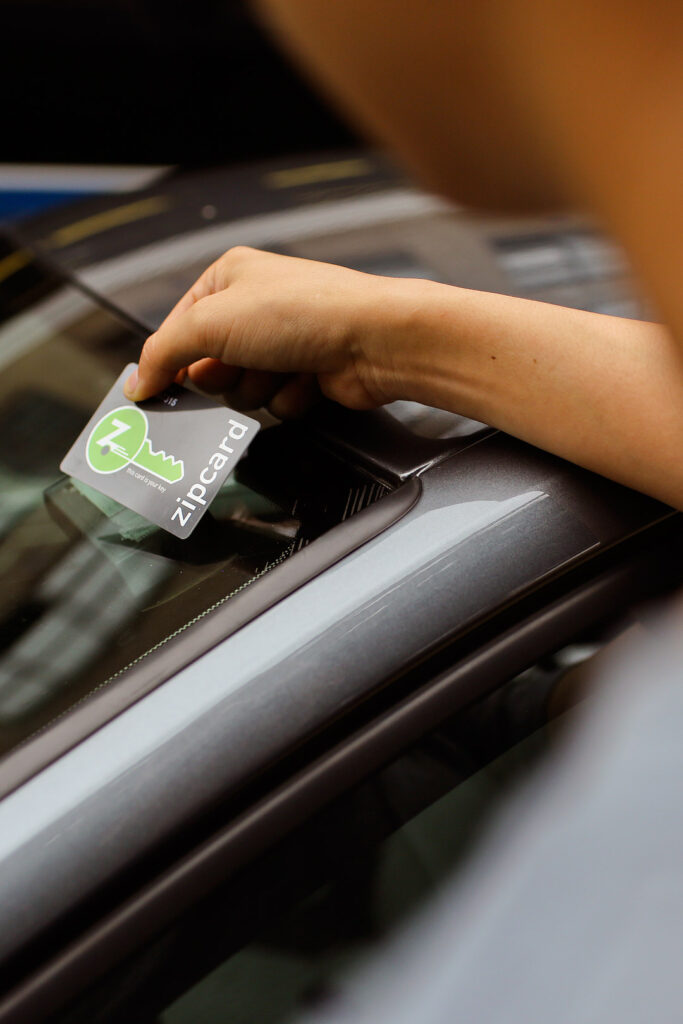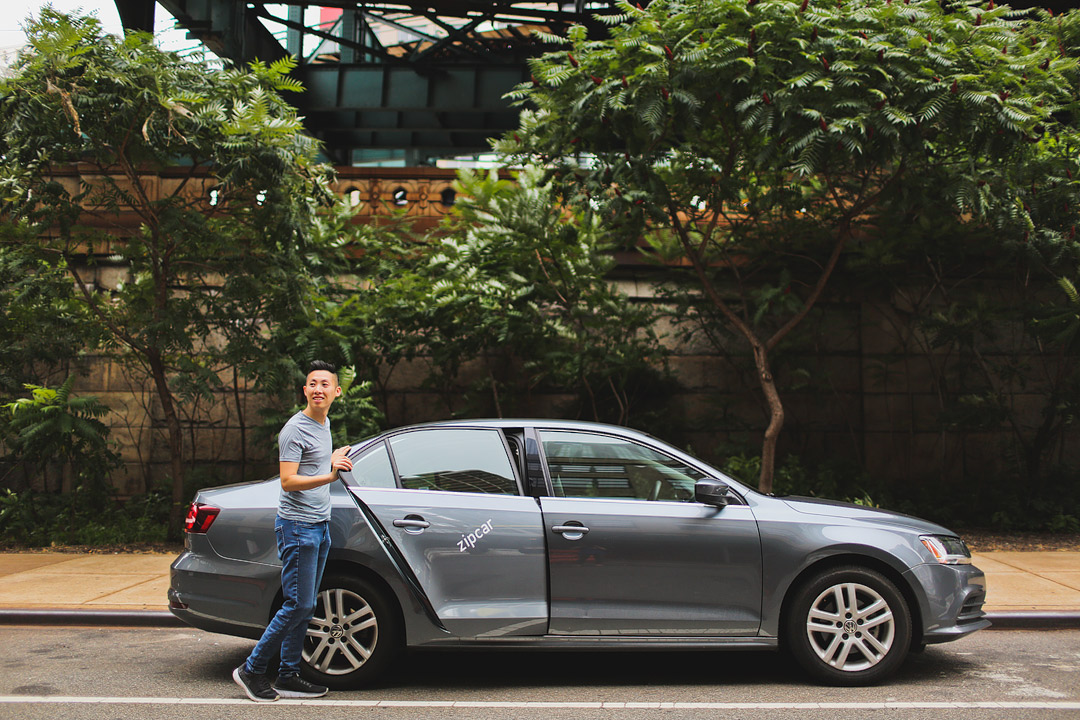 Travel Tips for the Best Fall Foliage in the USA
Peak color and foliage differ greatly based on location in the United States, but also the elevation of where you are visiting. Popular leaf peeping spots will have resources to keep you up-to-date on how it's looking.
Social media, like Instagram and Facebook, are a good resource to see what colors look like. We typically go onto the geotag and scroll through all the recent images to see what it's looking like. Keep in mind, people do post older photos so go with what you are seeing most of.
If the National Parks are crowded, check the surrounding areas. There is usually a National Forest or two right nearby that have great colors too.
Can you think of other spots we need to check out for fall foliage in the USA? How many of these have you been to?
Did you enjoy this post? Pin it for later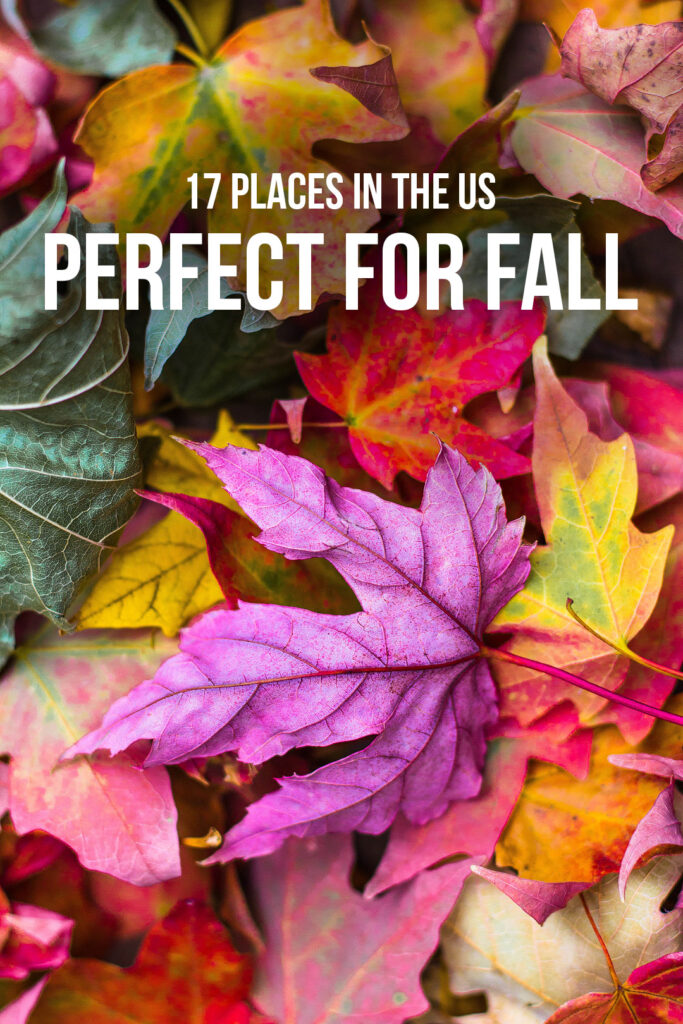 SEE More USA Guides
⟡⟡⟡⟡⟡
"Discovery consists not of seeking new lands but in seeing with new eyes" – M. Proust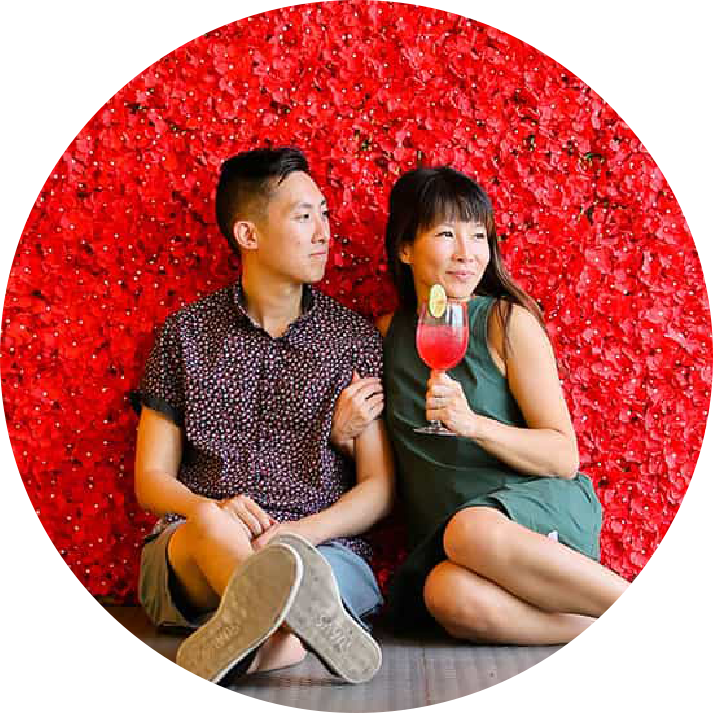 Esther + Jacob
Esther and Jacob are the founders of Local Adventurer, one of the top 5 travel blogs in the US. They believe that adventure can be found near and far and hope to inspire others to explore locally. They explore a new city in depth every year and currently base themselves in Las Vegas.
Follow on Instagram (E + J), YouTube, TikTok, and Pinterest.